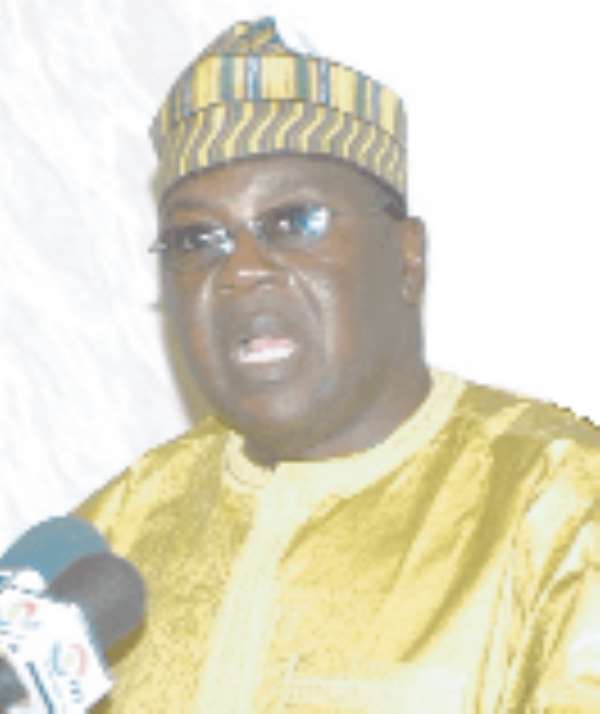 The Vice-President, Alhaji Aliu Mahama, has appealed to striking health workers in the country to reconsider their decision to continue with an indefinite strike.
He described the strike embarked upon by members of the Health Workers Group (HWG), particularly nurses, pharmacists and other paramedical staff in the public health sector considered as sensitive to human life, as worrisome and a threat to life and national development.
The Vice-President, who paid a surprise visit to the Korle-Bu Teaching Hospital in Accra yesterday to assess the impact of the industrial action, admitted that there were discrepancies in the salaries and wages of health workers and gave the assurance that the problem which necessitated the action would be addressed.
Alhaji Mahama, who first called on the management of the hospital to interact with the members, inspected the Accident and Emergency Centre, the Child Health Department, the Maternity Ward and inspected the ¢25-billion renovation works on the Medical Block, offered to pay the medical bills of eight children and their mothers who had defaulted in settling their bills, ranging between ¢1.5 million and ¢2.2 million, and had consequently been detained for three months.
He was conducted round and briefed on the situation at the hospital by Dr B.D.R.T. Annan, the Director of Medical Affairs, Mr Christopher N. Nartey, the Director of Administration, and Mrs Grace Barnes, the Director of Nursing at the hospital.
During the tour, it was realised that most of the beds were empty and the various pharmacy shops closed, with only the heads of the various units, the junior doctors who resumed work only on Monday and a handful of nurses in mufti attending to patients.
The executives of the striking HWG were also meeting to enforce their decision on total withdrawal of services and to drive away a few nurses who were attending to patients in order to drive home their demand for better salaries and conditions of service.
The Vice-President expressed optimism that the full salaries of the striking workers would be paid by the end of the month.
He stressed the need for teamwork at the country's medical centres, saying that "all the components are important and must work together".
Dr Annan, who stood in for the Chief Executive Officer of the hospital, Professor K. Frimpong-Boateng, said the few nurses on duty were helping in emergency cases.
He said other departments of the hospital were not working, adding that the situation was having an adverse effect on health delivery.
Dr Annan disclosed that some of the wards, including Medical and Allied Surgery, had been merged to ensure that work was not disrupted greatly.
He said so far ¢10 billion had been spent on the renovation works on the Medical Block and that ¢15 billion was needed to complete it.