Ex-MPs Requesting For GH¢29.7m Salary Arrears Vow To Fight Back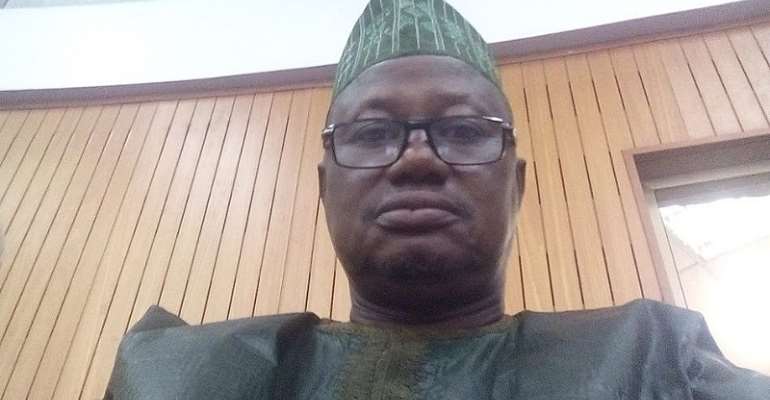 The Forum for Former Members of Parliament (MPs) requesting for the payment of their salary arrears totalling GH¢29.7 million owed its members by the State says it will fight back until its demands are met.
According to the Forum, it will seek redress at the appropriate quarters.
The Auditor-General, Daniel Domelevo, in a letter dated May 8, 2020, rejected a request by the Chief of Staff for an audit verification to be conducted for the payment of salary arrears to be given to over 200 former and current Members of Parliament.
The Auditor-General explained that the request made by the former MPs was invalid and amounting to a conflict of interest because most of the beneficiaries are either serving as members of the current government, including the President and the Chief of Staff or are still in Parliament.
But speaking on Eyewitness News, Mr Apasera David, a former MP for the Bolgatanga Central Constituency on the ticket of the Peoples National Convention (PNC) and leader of the Forum for Former Members of Parliament (FFMP), said they are not moved by the decision of Mr Daniel Domelevo.
"The options are there that if you have an entitlement and government is refusing you that entitlement you can go through the right quarters for redress. So the appropriate quarters are there that we can go to for redress so we are not bothered by the opinion of the Auditor-General. I believe that if the Auditor-General had had time to listen to us, he would have understood our case. Nobody told us to come up with this thing, we took it up on our own. We didn't go to discuss with the Chief of Staff to say should we come up with it or not, we did it on our own because it is legitimate. So, we will go to the appropriate quarters for the redress of our concerns."
Conflict of Interest
Mr Daniel Domelevo cited a case of conflict of interest since to him some of the beneficiaries of the payment of the supposed salary arrears were occupants of various positions in the executive arm of government, whom he described as the 'the approving authority'.
In response to that Mr Apasera indicated that the case of conflict of interest is non-existent because the request for the payment of the arrears was not generated by government or its officials.
"He is saying conflict of interest but there is no conflict of interest here. If I am in position and I have an entitlement, I can't relinquish that entitlement because I am in that position? There is no conflict of interest here. The thing is not emanating from the Presidency neither is it emanating from the Chief of Staff quarters so where is the conflict of interest here? The thing is emanating from the Forum of Former Members and we were not properly paid and because of that a lot of our people are not in good shape and so we can't leave our entitlement because somebody thinks it is a conflict of interest and this is not a conflict of interest."
Time of request (COVID-19)
According to the Auditor-General "It is my considered opinion that the former MPs are not entitled to what they are asking for but it also comes to me as a surprise that our honourable former MPs are making such a request at the time of a pandemic that has taken the world by surprise"
But responding to that the FFMP leader said: "The pandemic has taken the world by surprise so somebody should be dying in his house when he cannot provide for himself and his family? When you are growing older, that is when you need money to buy drugs, and you have an entitlement and you are sitting in the house and you are dying and you say because coronavirus has hit the world you should not take your entitlement then people should stop taking their salaries. People who are sitting in their offices should stop taking their salaries so that COVID-19 will not affect the country's economy but if I have an entitlement and I am aged and I am sitting in the house and I need to eat, buy drugs and keep myself alive I don't have to be told that I shouldn't take it because COVID-19 has hit the world. If COVID-19 has hit the world then let nobody take salaries and pensions and let us rely on what we have saved." Background
The FFMP had sent a request to the Chief of Staff in a letter dated April 17, 2020, requesting the payment of arrears of salaries and emoluments amounting to over GH¢29.7 million.
The Chief of Staff, Madam Frema Osei Opare, in a letter dated April 22, 2020, based on the request by the forum in relation to the salary arrears they say are due them in the Fourth Parliament, had asked the Auditor-General to do an audit verification on the request.
However, the Auditor-General, Mr Daniel Yaw Domelevo in a response letter dated May 8, 2020, declined to carry out the audit verification and said they [former MPs] were not entitled to the said arrears and that it was an "invalid" request.
He also talked about a conflict of interest situation because he said the current president [Akufo-Addo], the Chief of Staff, Frema Opare, Members of Parliament from the Majority side who are in government are on the list and he believes, "it amounts to a conflict of interest to make an additional payment of 20 percent salary increase per annum for four years to former Members of Parliament covering a period of 10 to 14 years ago, especially when some of them are now in the Executive, i.e. the approving authority."
Mr David Apasera provides further details
Throwing light on the request, Mr Apasera explained that in 2001 the MPs were being paid on account of an estimate because the President had not set up the Emoluments Committee to determine what actually was to be paid the MPs.
He said they were then paid on account pending the recommendation of the Emoluments Committee with the hope that whatever differences were to come up, were going to be tallied and paid according to that.
"What happened was that, when we were in Parliament in 2001, we were being paid on account and finally the committee finished its work properly in 2009. It was in January [2009] that we approved of the committee's report. And when we approved the committee's report, by then, we were leaving Parliament and so the payment that was made was on account."
"Now, Honourable P.C. [Appiah] Ofori had to take the matter up, because he, fortunately, came back to Parliament and he took the matter up and it was rectified and so the committee's report was implemented from day one, 2001."
"And because of that, President Atta Mills gave approval for the rectification and so payments were made, arrears were paid from 2001 to 2004 MPs. So the committee's recommendation was that, from 2001, each MP was to be paid Gh¢2,300. Now, the following year, the MPs salary was supposed to be increased by 20 percent, so 2002, the MPs were to be paid Gh¢2,706. In 2003 the MPs were to be paid Gh¢3,120. Now in 2004, the MP was supposed to be paid 20 percent increment. Unfortunately, there was a repetition of the 2003 salary for 2004, and so that came up when we decided to look through the books. We realized that the 2003 salary, which was Gh¢3,312 was repeated for 2004, so it meant that, 2004 salary was not paid and so we argued for it to be rectified, and by that argument, they understood and then the Auditor-General passed that document–we were entitled, so that money was paid and that brought the salary of 2004 to Gh¢3,700 and something."
He further explained that "in 2005, what was to happen was that, this 2004 salary should have been increased by 20 percent as the base salary for 2005 but that wasn't the case. 2005 the base salary was Gh¢3960 less than the 2004 salary and then that figure was what we got as salary and every year, it will increase by 20 percent. Now when you have to rectify the 2004 salary, it was supposed to have been increased by 20 percent."
Mr Apasera disagreed with the current Auditor-General's position that the Chinery Hesse's Committee report cannot be relied upon.
"What he is saying is that, we may drift into a constitutional fight."
He said there was no basis for any sitting president to disallow the previous president's approval of emoluments.
"It doesn't work because the emoluments would have already been paid."
He said it was not President Mills who was to approve the Chinery Hesse report in respect of the emoluments of the Parliamentarians, it was President Kufuor rather and that was done.
He explained that the Chinery Hesse committee report was approved by President Kufuor, "and once the president approves a presidential committee's report it takes effect. We have documents to show that, that document was used to pay us every entitlement, except that the computation."
On the argument by the current Auditor-General, Mr Daniel Yaw Domelevo that the Chinery Hesse report was not properly approved, Mr Apasera said: "you see the truth about it is that as politicians, certain times, we are our own enemies. I can say that there is nothing neither here nor there. We have found the report, we went to court with the report, we got letters from the then Chief of Staff, Kwadwo Mpiani, writing to the Speaker of Parliament saying that the President has approved the report and we sat in Parliament and approved the report in the committee of the whole, there is nothing like that committee report was never approved."
"What happened with Ishmael Yamson's committee was that, that committee itself was not even able to come up with anything tangible for us. It is a contradictory report…which was not right, so that cannot be relied on."
---citinewsroom