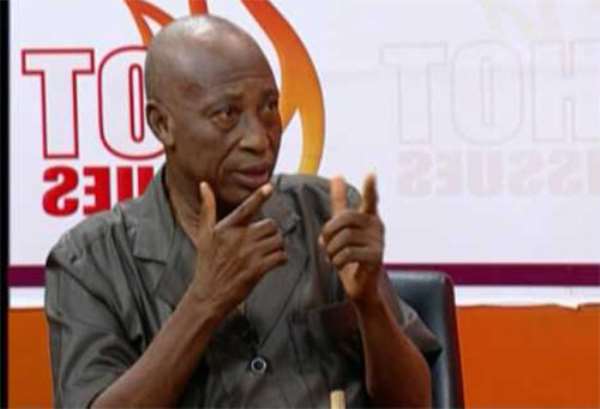 Major Boakye Gyan
Major Boakye Gyan (rtd) is suffering from the Post Traumatic Stress Disorder (PTSD) syndrome he suffered during his association with the murders and disappearances of hundreds of Ghanaians in 1979.
His condition has degenerated into a psychosis as being amply evidenced by his empty NDC civil war threats.
Although he was not part of the firefights of the 1979 coup, he and others chose to call a revolution he cannot exonerate himself from the subsequent murders and disappearances which occurred.
He has particularly endured a long spell of mental tribulations, the kind which befall murderers or those who supervise it.
He lost his tongue long ago, but has recently found it in a bad state, which accounts for his unintelligible ranting. He is championing the useless and unachievable agenda of forcing down the throat of Ghanaians the discredited old voters' register, something even sane persons have failed to achieve.
There is no gainsaying the fact that desperate persons who would hold on to anything in their search for whatever can kill the new voters' register project have engaged this empty human shell to do their bidding.
Boakye Gyan, an NDC person, should stop deceiving or even fooling himself that in his current unworthy state he can influence the direction of any project in this country.
His appearances on radio stations can be likened to circus shows, with many listening to him for the sheer entertainment value therein and nothing else.
Boakye Gyan needs deliverance and serious counselling, the latter being the most critical. Those who host him in their studios should be on their guards lest he harms during a mental crisis which he sometimes encounters.
Ghana has grown past the time when he was hopping all over the place lying about a better Ghana he and the junta were going to usher the country into but which never came. That was after the real soldiers had committed the treason which toppled a democratically elected government.
For him to threaten mayhem in the country should the wish of the NDC not be achieved is, of course, one of the symptoms of psychosis he is manifesting.
His treason baggage would have long sent him to the gallows were he to be in some dispensations with strict abhorrence for coup makers or those associated with the crime in any form.
In our part of the world, people are usually left to suffer the effects of their deeds, and that is why Boakye Gyan in his wretched form will endure the double agony of a cognitive dissonance.
Ghanaians who lost their loved ones could only leave the battle for the Lord to deal for them. If Boakye Gyan is suffering this level of psychosis which makes him think he can threaten this country, all we can say is 'poor guy let him endure the pain.'
We shall return.
Source: Daily Guide