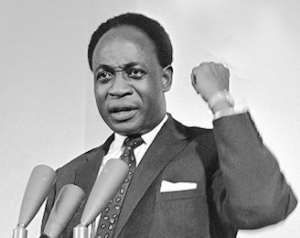 "Our independence is meaningless unless it is linked with the total Liberation of the African continent" This was the prophecy of Osagyefo Dr.Kwame Nkrumah regarding independence, Africa unity and the liberation of Africa from neocolonialism and imperialist bigots.
Our independence as a sovereign nation on March 6,1957 conceptualized Ghana to a republican state under a new constitution and democracy on 1st July 1960, conferring Dr Kwame Nkrumah as the first black president of Ghana under the first Republic. Courtesy of Osagyefo Dr.Kwame Nkrumah, he spearheaded his ideologies and vision to see Ghana run under a constitutional and democratic mandate.Nkrumah's election and symbol of democracy paved way for an official referendum organized in 1964, which strengthened the powers of Dr.Kwame Nkrumah and the CPP, and turned the country to a one party state by 99.91% in support.
_Those calling Dr. Kwame Nkrumah a dictator should take note._
Another election took place in June, 1979, making Hilla Limann an executive president of Ghana and henceforth, Dr. Kwame Nkrumah's Democratic governance gave birth to the 1992 constitution under the PNDC government.
Our independence was aimed at uniting Ghana with other sovereign nations of the continent to work for the total independence and liberation of Africa, so that Africa can be self reliant, free from external powers, extortions and Imperviousness.
Dr.Kwame Nkrumah once said "Independence is only the prelude to a new and more involved struggle for the right to conduct our own economic and social affairs".
The rationale behind our independence as envisioned by Osagyefo Dr.Kwame Nkrumah is misconstrued and warped by some persons and group of people just to make Dr.Kwame Nkrumah unpopular and an adversity to his own Ghana.Nkrumah was never a self seeking leader but a leader for all,a leader for the hopeless masses.A leader for the Independence of Africa . A leader for Economic freedom for the entire African continent.
And a leader for unity.He was not like the folly leaders of the 4th republic who stand for their parochial interest and corruption.
"Good people are naturally hated by their critics"
Ghana adopted the white mans Democracy,which taught us to hate each other and be over reliant and puppets to our colonial masters.
We are taught to be disunited as Africans and this has made their mentality for disuniting and disorganizing Africa an unimpeachable and adventurous bait to us and AFRICA.
IMF and world bank are their medium of exploitations.These institutions are forms of exploitations from the imperialist and capitalist bigots who in one way or the other finds it exciting rupturing Africa apart socially,economically and politically."Our so called elite folks and high profile leaders inadvertently ramifications,truncates the dreams and aspirations of Africa and our nation through dictatorship from colonial masters using these mediums to keep us in financial stress by dictating our economy,our governance and resources .That include also,greed and meanness from our leaders.
Our leaders are pessimistic to our development because, they ve their interest set in high parameters as their priorities, and can be undermined or breached should Africa unite .
Foreigners must not invest in our resources "AFRICANS for AFRICA"Africans should invest in Africa's resources. The imperialist exploit us from our greedy leaders and our greedy leaders exploit us through the same imperialist.Out of selfishness our leaders entrust our lands with resources to foreigners.Our oil,bauxite, gold and the likes,are managed by foreigners and we are happy and not ashamed to be called by our name "Ghana",'Africa"we are happy praising our leaders for such drastic fiasco in all sectors of administrative portfolios, when Osagyefo Dr.Kwame Nkrumah initio Ghana was a paradise .Starting from industries,education and Agriculture. Osagyefo Dr.Kwame Nkrumah declared independence for Ghana, so that we can be serious in building our country and our economy by ourselves.But today, after independence Dr.Kwame Nkrumah would not be happy in his grave to see that the Ghana and Africa he fought for has brought back imperialism and foreign capitalist to give us food to eat and money to revamp our Economy.We have become lazy by over reliance in foreign aids and grands.
Ghana must rise now.
African must rise now, and let's build one country with one strong Economy.
Africa unite.
By ANTHONY AKUDAGO
[email protected] FREEDOM FIGHTERS OF GHANA (EFF-GH)
Email_ [email protected]
TEL;+233244940504