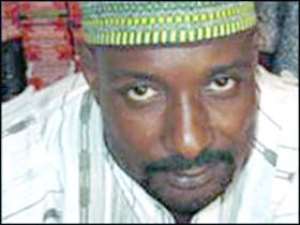 Hamisu Lamido Reports reaching Beatwaves indicate that a gang of armed robbers last week invaded the residence of a top Nigerian film director, Hamisu Lamido, who was jailed for defying Islamic censors in northern Nigeria.
Mr Lamido, known in the Kano film world as Iyan Tama is currently serving a 15-month sentence for releasing an uncensored film.
According to nollywoodgists.com, the armed men threatened to kill the wife and family members of the producer, but no one was injured in the attack.
The wife had to beg for the lives of her children before the men left the house.
The film producer, Mr Lamido, who was charged with releasing a film without approval by the Kano State Censor's Board and operating an unlicensed film production company - charges he denied - was jailed in December.
His lawyers are challenging the court's decision.
A website dedicated to getting him released has posted scans of documents they say prove the producer had permission to make the film.
The film, 'Tsintsiya', meaning 'The Broom' in the Hausa language of northern Nigeria, was finished during a six-month ban on film-making declared by the Kano State Islamic authorities.
He says the film, a Hausa version of West Side Story, was exempt from the ban because it was funded by the US embassy in Nigeria.
It was filmed outside Kano state and wasn't released there either, Mr Lamido says.
The film features singing and dancing, also banned by the censors.
"This harassment of the producer and his family is political," said director of photography on the film, Emma James.
"Lamido contested for the governor's position in the last election and they want to deal with him."
The ban on filming was introduced after a mobile phone clip of a well-known actress having sex with her married boyfriend was circulated.
After the ban was lifted the censors announced tough new restrictions.
Islamic authorities say the ban on singing and dancing on screen was necessary to protect Hausa culture against the influence of Indian Bollywood films, hugely popular in northern Nigeria.