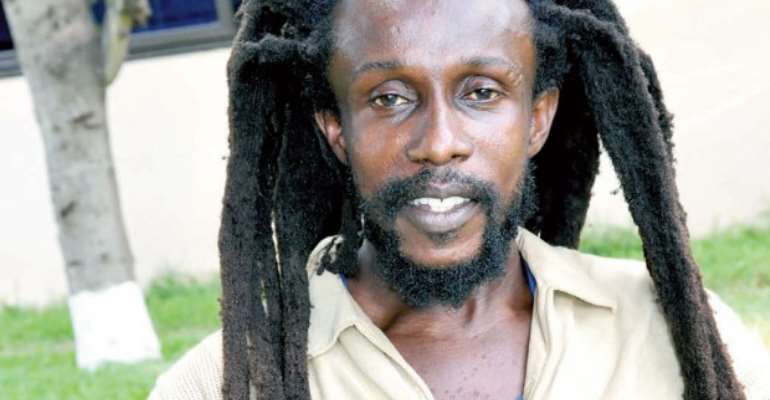 An Accra Circuit Court yesterday acquitted and discharged popular reggae musician Lester Ekow Micah who was being tried over narcotics-related charges.
The musician of 'Me Si Wu Hemaa' fame has since August this year been standing trial for allegedly possessing some  127 grams of substances suspected to be Indian hemp which were found in his room.
The court, presided over by Aboagye Tandoh, said the prosecution failed to incriminate Ekow because they could not prove that the accused had 'legal possession' of the substance.
In the judgement that sent the entire court into a spontaneous applause, the trial judge was emphatic that the prosecution failed to lead sufficient evidence to warrant the conviction of Ekow.
Mr Tandoh indicated that Ekow had succeeded in raising doubts about the source of the substance, insisting that the prosecution once again failed to challenge the evidence that a certain fair-coloured man visited the residence of the accused and may have left the substance there.
Ekow, during the trial, mounted a spirited defence against the charge of possessing the substance.
The court presided over by Aboagye Tandoh also kicked out an application filed by Andrew Kudzo Vortia, lawyer for Ekow, to stay the trial and to recall the investigator/witness in the case.
You Smoke
The trial judge, while wondering if the prosecution knew the said man who visited the accused, said Ekow could not be said to have had legal possession of the substance.
Mr Tandoh said it was difficult for him to believe Ekow's defence that he does not smoke. He said   someone was trying to take advantage of the assertion that Ekow smoked the substance to 'ginger' himself in his music career.
The judge was convinced that the accused smokes and had some knowledge of Indian hemp.
Mr Tandoh also rejected the caution statement taken from the accused during his arrest on the basis that it was wrongly admitted.
He said that even if the accused had written his caution statement himself, it ought to have been obtained in the presences of a witness.
Ekow, who was spotted in a white long sleeve shirt with the inscription 'Bob Marley' in red, gold and green colours over an ash pair of trousers, had denied the charges of possessing the substance.
Arrest   
Ekow was arrested on August 4 by the Airport Police over an alleged extortion case currently before another Circuit Court.
The prosecution alleged that the following day at about 11:30 am, the Police and the accused person visited Micah's house to conduct a search and in the process, dried leaves suspected to be Indian hemp were found in Micah's bag.
[email protected]
By Jeffrey De-Graft Johnson