Don Richy Drops New Single Titled "IT'S ALL ABOUT YOU"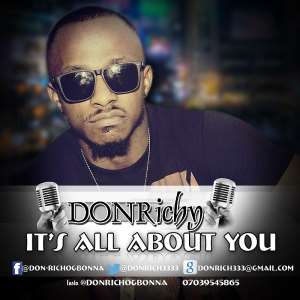 Gospel artist Don Richy is out with a new single titled 'IT'S ALL ABOUT YOU', a song of thanks giving with an upbeat reggae tune that lifts your spirit and moves your feet to dancing.
Don Richy in this song portrays the gift of Gods favour and Blessing and in essence giving thanks to God.
Artist name; DONRICHY
song title; It's all about you
Status; single
Nationality; Nigeria
State; Enugu
Upload link
https://my.notjustok.com/track/46381/don-richy-its-all-about-you
Artist Profile
He hails from Enugu in Edem-ani LGA Nsukka . The third born and the second son in the family of five. A banker devoted Christian and a rising gospel rap artist that had won a scholarship once in his university days because of gospel rap music.
Recently dropped an album called CHARIS (grace) and is out with a global singles again titled (It's all about you). Is not all about the gospel music alone, but on how the gospel in the music affects you? Listen and be blessed, Thanks!
CONNECT
Phone No : 07039545865
Facebook : donrichogbonna
Twitter: @donrich3333
Instagram:@donrichogbonna
Gmail: [email protected]