Journalist Wins Car At West Hills Mall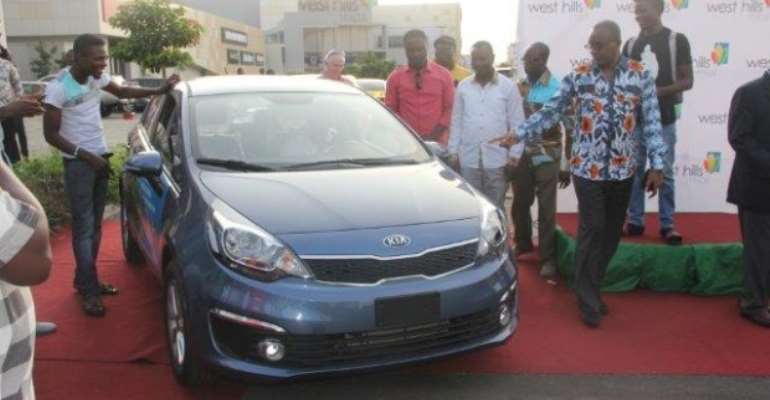 Kwame Okyere Jnr driving off his new KIA Rio after keys were presented to him by Kofi Sekyere. Looking on are senior officials of the mall
A GH¢230 shopping spree at West Hills Mall was all that Kwame Okyere Jnr, a broadcast journalist at Pink FM, needed to become the owner of a brand new KIA Rio saloon car, bringing 90 days of an exciting scratch and win promotion at Ghana's biggest mall to a dramatic close.
'I always shop at West Hills Mall, but I cannot believe that the shopping I did for my old lady (his mother) yesterday has gotten me a brand new car,' an elated Kwame Okyere Jnr told journalists after he was handed the keys to his new car yesterday.
To reward loyalty and introduce some more excitement into the shopping experience of customers and patrons, West Hills Mall initiated a scratch-and-win promotion in May which gave away a variety of freebies to shoppers who purchased any range of items to the tune of GH¢100. Several hundreds of shoppers won prizes like mobile phones, power banks, Surfline data modems, top-up credits and a range of shopping vouchers, but every shopper's expectation was to scratch and win the ultimate prize - a brand new KIA Rio saloon car.
The Ultimate prize winner telling his story of how he won the KIA Rio as Assets Manager Johan Venter look on
When 150 expectant shoppers filed in to draw shuffled cards from a huge barrel on the forecourt of the mall yesterday, it was to the 25-year-old broadcast journalist whose fortune smiled.
Before the draw commenced on the forecourt of the Mall, Kofi Sekyere, Chairman of West Hills Mall, mentioned that the mall is a multi-million dollar facility which was conceived with all levels of social classes in mind and responds to the shopping needs of all.
'By that, I mean that West Hills Mall is open to everybody who lives in Accra - the corporate worker, the businessman, the public servant, the academic, the pensioner, the student and indeed the entire family,' Mr Sekyere said.