Mama Zimbi In London's Evening Standard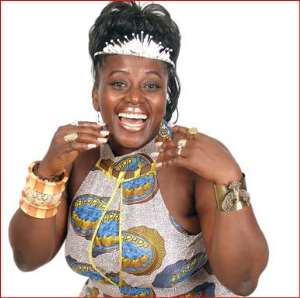 Ghana's Akumaa Mama Zimbi has been described as a sex therapist fighting to put economic power in women's hands by London's Evening Standard.
It is the second time an international platform has shown interest to Akumaa's efforts to help women.
Late last year, she was featured on international news platform, Aljazeera, where she spoke to the issue of discrimination against widows as a result of traditional beliefs.
The Evening Standard celebrated her for being a leading activist for women's rights and education via different platforms including her Mama Zimbi Foundation.
Akumaa is an actress cum radio and TV presenter. She hosted 'Odo Ahumasuo', a sex education programme which she used to save a lot of marriages.
She took it upon herself to help widows who are often marginalised. That gave her the accolade, widows' protector.
She owns the Widows Alliance Network (WANE), a project for sustainable socio-economic development of widows in Ghana, one of the projects undertaken by her Mama Zimbi Foundation (MZF).
It has brought together about some 8000 widows around the country. The foundation supports the widows to work and also educate them on their rights.
It helps the widows to establish small-scale businesses to carry on with their lives.
By Francis Addo (Twitter: @fdee50 Email: [email protected] )