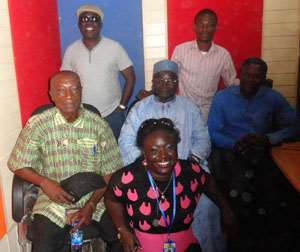 Some of the staff of the station
TIME FM, a private commercial radio station located in Obuasi in the Ashanti Region, is making strong waves in the traditional mining town and beyond.
Operating on the frequency of 96.9 MHz, the station, which has not been in existence for long, has been using its strong medium to educate, entertain and inform the audience.
The station's strategic position at Obuasi has made it possible for it to transmit to about four regions in Ghana, namely Ashanti, Western, Central and Eastern regions.
Boasting of some of the best presenters in the country, Time FM is owned by Nana Opoku Agyemang, who is a luminary in the radio business in the country.
Nana Opoku Agyemang is credited for providing visionary leadership skills which helped to transform about three top radio stations in the Garden City.
Time FM's sudden rise to stardom has therefore not surprised many in the radio industry because with Nana Opoku Agyemang as the station's owner, success has already been assured.
BEATWAVES' s visit to Obuasi over the weekend revealed that Time FM, which operates within Akan dominated areas, addresses its audience mostly in Akan, and sometimes in English.
Most business entities in Obuasi and beyond have also made Time FM their preferred station with which to do business as the station's audience supersedes that of the other radio networks in the area.
The listenership base of the station, which operates for 24 hours a day, keeps soaring as the days go by. The station plays popular local music and gives its captive listeners the best programmes.
Time FM syndicates its morning show from Adom 106.3FM and intersperses it with important and pressing local issues in and around the Adansi area.
The station's news bulletins are exceptional and they aim to be the ultimate Akan news source in the region. They also have very exciting sports programmes as well as commentaries.
On Republic Day, the station celebrated the day in grand style by inviting top personalities to host its programmes.
The Municipal Chief Executive of Obuasi, Hon. John Alexander Ackon, hosted the morning show. The Deputy Imam of Obuasi, Alhaji Yusif Iddrisu, the Bogobri Odikro and Chairman of the Obuasi Inter-Party Dialogue Committee, Nana Owusu Achiaw Brempong, and the Secretary, Obuasi Local Council of Churches, Rev. Ben Mensah, were the panellists on the show.
FROM I.F. Joe Awuah Jnr., Kumasi.