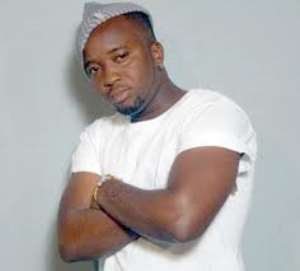 This past weekend Trigmatic became the first ever hip hop artiste in his prime to perform at a highly branded gospel musical concert in the history of Ghanaian music. This past weekend at the highly anticipated Adom FM Gospel Industry Music Awards, the rapper took to stage with ace gospel performer Herty Borngreat as they performed to the enlightened Christian dominated crowd.
The two made the headlines when they made a record together, the song "KA NO SEYAA" is currently one of the most successful commercial gospel songs in recent times. When Herty took to the stage a few people expected the rapper to appear as a surprise, but most people expected him to come up when it was time to perform the song they collaborated on but when it happened otherwise the crowd was simply ecstatic.
The rapper/singer joined the gospel song writer to duet the famous "GUIDE ME" originally performed by Koda and the Soul Winners choir before they went on to perform their collaboration.
As he took to the stage singing along and taking the last verse of the song in Ga and Twi the crowd was simply shocked and highly excited. The response was simply amazing, arguably the best performance of the night. This is the first time a successful commercial artist in secular circles has committed to a gospel project in his prime.