Vodafone Icons Highest Texter Receives Brand Car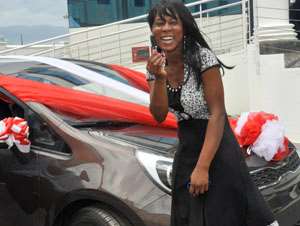 Regina Ampofo in a pose after the presentation
The highest texter of this year's edition of Vodafone Icons was presented with a new 2012 KIA Rio at a colourful ceremony held at the forecourt of the Vodafone headquarters.
The ceremony saw a gathering of major stakeholders of the Vodafone Icons who were present to celebrate the success of Regina Ampofo, the 32-year-old lucky winner.
The sleek sedan car from Rana Motors has an amazing interior and exterior design and perfect fuel consumption. It also has new and advance features including trip computer, tilt steering wheel, antilock disc brakes, stability and traction control, front-seat side and side curtain airbags, and hill start assist. The 138 horsepower and 123 pound-feet of torque car has a four-speaker sound system.
Handing over the car to Regina Ampofo, Chief Marketing Officer of Vodafone Ghana, Uche Ofodile stressed that 'we designed this year's edition of Vodafone Icons with our customers in mind - to make them have a feel of the joys the winners go through. Aside crowning Black n Peach as winners a couple of weeks ago, we are also giving Regina who emerged the highest texter this beautiful prize. She deserves it.'