'If You Love Me No More, Say So' - Agya Koo's Wife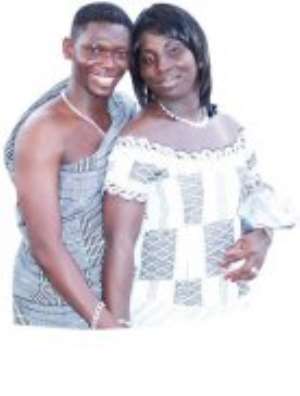 Good times - Victoria and Agya Koo
Good times - Victoria and Agya Koo Victoria Owusua Adomako, wife of popular actor Agya Koo, who had refrained from making any public comment since her husband caused her arrest two weeks ago on the allegation that she had stolen his car, has poured her heart out to Graphic Showbiz.
"If my husband doesn't love me anymore because he is now rich and famous, the best thing is to divorce me but not to accuse me of theft", the 38-year -old mother of one told Showbiz last Monday in Accra. According to her, never in the 17 years that she has been married to Agya Koo has she stolen a pesewa from him.
Victoria was responding to news that first broke on Adom News ago that her husband Agya Koo had cased her arrest for allegedly stealing his car and giving it to her boyfriend.
She told Showbiz, "Agya Koo himself knows how much I have contributed to his career. At the beginning of our relationship, there were many hard times for us. At one stage, he was not working and I was earning two cedis a day but I shared it with him. Even though it wasn't enough, we managed.
Victoria said Agya Koo started behaving funny when hebegan to rise in to fame with movies like Asoreba, Ohia Asoma Wo, Wonyame Som mpo Nie and Otan ne Ahooyaa. "He would not eat my food and would insult me at the slightest disagreement. Victoria said she left her matrimonial home to avoid the continuous intimidation and humiliation and rented a single room at Kasoa to have her peace of mind.
She stated that she was very sick for some days when she moved in to her new place so a guy who lives closer to her named Kwadwo who is now being accused as her boyfriend drove her to a nearby clinic for treatment after which he drove her back home. After that she and Kwadwo became good friends. "There was nothing amorous between us because he knew I was married and I also respected myself as a wife", she said.
Narrating her arrest incident, Victoria said "I was home when I was informed that Kwadwo had been picked up by the Tesano police because of me so I drove there to find out if it was true. Just as I arrived at the station and my husband saw me, he shouted, 'arrest the prostitute, she has stolen my car for her boyfriend'. I was arrested there and then and kept in police cells overnight"
When Showbiz contacted Agya Koo over the phone last Tuesday, denied his wife's allegations. He said he caused the arrest of his wife because she stole his car and gave it to her boyfriend. He said that he had been he a loving husband and has been adequately providing for the wife and child so he was very surprised when he returned from a trip abroad only to find that his wife has stolen his car.
Agya Koo said he was very much aware that his wife is being encouraged by her peers to bring him down but all that will not materialise because he knows he has done his duty as a loving husband. "I have not spoken on any media network yet but I am planning to clear myself next week so that Ghanaians will know who is telling the truth", he said.