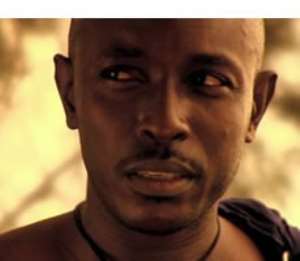 The mortal remains of Ghanaian actor, Godwin Kotey who died in March this year has been laid to rest at the Osu cemetery Saturday.
The renowned actor died of multiple myeloma on March 5 at the Legon Hospital in Accra.
Before the burial, friends, family and students of the School of Performing Arts at the University of Ghana kept wake at Efua Sutherland Drama Studio, Legon Friday night.
Students of the School of Performing Arts, where he once taught, paid tributes to the late actor who was also an educator, playwright, producer and director.
They honoured him with performances of some of his plays including, Etuo Etu Bare and The Scent of Danger. Some of his movies, such as Police Officer, were previewed at the wake-keeping.
The students also had a candle light performance and called his name about 20 times in total darkness.
Renowned personalities including, Akorfa Adjeani-Asiedu; Doris Kuwornu, Corporate Affairs Director, GBC; Dzifa Gomashie; Dr. Awo Asiedu, Director of the School of Performing Arts; and Captain Retired Nkrabia Efa Dartey attended the wake-keeping and the funeral which also came off at the same venue Saturday.
Leila Djansi, Kofi Adjorlolo, Abdul Salam Mumuni, Frank Rajah, Jackie Appiah and Ekow Blankson, representatives of Abibigroma, Ghana Dance Ensemble, and the Ghana Actors Guild were also in attendance.
Until his death, Godwin lived in Chicago and Virginia in the US and was pursuing his PHD in Speech Communication on a Fulbright Scholarship at the Southern Illinois University.
In 2001 at the prestigious African Film Festival (FESPACO) in Burkina Faso, he won an award for Ghana with his film, The Scent of Danger.
Godwin Kotey will be remembered for his roles in popular productions such as Leila Djansi's I Sing of a Well, Police Officer, Sodom and Gomorrah and a host of others.
He directed several productions including Smash TV in 1996 and 1997, and Taxi Driver 1999. He owned Dreamhouse Studios.
Godwin was the Creative Director for the internationally praised Opening and Closing Ceremonies of the 2008 African Cup of Nations in Ghana in 2008.
He was survived by a wife and two children.