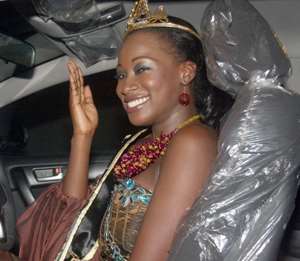 THE FINAL event of this year's Miss Malaika beauty pageant is scheduled to take place on Saturday, November 5 at the Accra International Conference Centre at 8pm.
This year's event will witness live performances from seasoned music icons like Sarkodie, R2Beez, Stay J and Nigerian born artiste Dr. Sid.
This year has not been any different as the 10 beautiful delegates have embarked on several exciting adventures since the competition was out-doored.
The 10 delegates who have managed to sail through the competition to this stage are putting bits and pieces together to compete keenly against each other, all in pursuit of the enviable crown, car and cash.
Their 13-week stay in the competition has been challenging but exciting. Sadly in previous episodes, Esi Doe, Asi Adoo-Yobo, Rita Goka and Viola Vandawell-Boame were evicted from the pageant due to low votes and other factors, while Geneviee Cooper willingly opted out of the pageant along the way and 19-year-old Felicia Agyapong gave her last wave in the pageant as the last evictee.
A very important decision would be made on the night of Saturday at the Accra International Conference Centre, where the judges and the god mothers on the Malaika pageant would critically assess the delegates, collate results and pass judgment accordingly.
The delegates would be involved in various tasks to prove themselves worthy to be crowned as Miss Malaika Ghana 2011. The following are the final 10 delegates who would compete against each other for the enviable crown at the grand finale of Miss Malaika Ghana 2011: Magdalene, Priscilla, Smallie, Mikafui, Gerry. The rest are Daisy, Nana Konadu, Afriyie, Alex and Emma.
Miss Malaika Ghana 2011 is sponsored by RANA Motors, Air Namibia, UB Hair Relaxer and Simbin's Furniture. The other sponsors are Inspiration by ATL, Sleek make up, Royal Richester and powered by GhOne.