Big Brother Amplified: Confidence evicted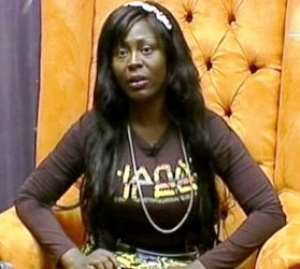 Confidence Haugen

One of Ghana's representatives in the on-going Big Brother Africa (Amplified) reality show, Confidence Haugen, has been evicted.
This was the third time she was coming up for eviction but was not third time lucky.
In what has been by far the most intense live eviction show from the Big Brother Amplified studios in Johannesburg, South Africa Sunday night, Confidence was up for eviction together with Vimbai, Hanni, Millicent, Vina, Weza and Zeus.
Confidence asked for it
From housemates and Confidence's reaction and comments after the eviction, it was clear that Confidence's wish of going home has been granted.
Before IK, host of the show, could mention the name of the next housemate leaving the house, Confidence mentioned her name and with a reaction that said she saw it coming, she burst out and said, "I'm free from all you people. You guys will be hungry. Thanks for having me and my bulls**t."
"I am going home. I am going to have a Champagne," she added after spending six weeks in the reality show.
No Heads Housemate will win Big Brother Amplified
During an interview session with IK on stage after her eviction, the 'Bossy' Confidence said she had a great experience and that, "Every moment" she spent in the house, "was my favourite," adding "I am very grateful I was brought to this place."
The confident Confidence said as much as she had fun, her 'back-stabbers' are behind her now and that she is moving forward.
Asked who she thinks will win this season's show, the sexy looking Ghanaian representative was quick to say, "None of those people in the Heads House will win Big Brother," adding that those in the Tails House are potential winners of the show.
The night's eviction which was filled with exciting performances from several artistes including Malawian Tigris and the Amplfied Dancers started with a recap of the week's activities in both houses.
Lomwe was called upon to formally announce who he, as Head of House, was saving and who he was putting up for eviction.
Stating that his decision was "nothing personal", he declared that he had decided to save Felicia from possible eviction and putting Vimbai in her place.
Weza, after IK declared that Millicent and Zeus were safe from eviction, was asked to leave the house - She was subsequently sent to the Tails House due to the fact that she had the second least number of votes.
Confidence, Weza and Zeus all had one country vote each. Confidence was evicted because when Big Brother applied the percentage basis rule, she had the least number of votes.
Big announcement
IK announced that an exciting twist to this season's show is that there will be two winners on the final night - Two Big Brother Amplified winners.
The two winners will all walk away with a grand prize of US$200,000.
This new twist, he said is unknown to the housemates, something they will be told on the final day.
Story by Ernest Dela Aglanu/Myjoyonline.com/Ghana