Atumpan Stirs 'The Thing' Debate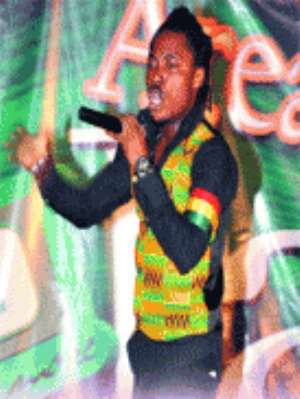 Atumpan
Only days after new hitmaker was boldly defending his risque new The Thing song on radio as not indecent, the young musician appeared on stage at Tema last Sunday with a young girl in tow who kept twisting her waist to the song "Small Girl, you don't know the tin, am teaching you the tin; you're playing with the tin".
Fans who witnessed YFM hit jam were astounded when mounted the stage with a little girl to perform. Artistes like R2Bees, Guru, 2 Toff, Scientific, Nana Boroo, Zigi, FBS, Stone Boy, Kwaw Kese and Dede Opanka passed through smoothly.
However, when the little girl got to the stage and started twisting her waist to the tune of 's song "The Thing" it was as if everyone there had been give a million cedis. The yell from the crowd was enough to wake one up from a comma.
For the best part of 10 minutes, the little girl caught the attention of the crowd.
Many were those who screamed on top of their voices and quite a number expressed the view that the girl was too young while others said the performance had a bearing on the song.
Asked later why he brought the little girl on stage as late at 1:00 am, told Showbiz, he wanted to illustrate to his fans what his song really meant. "I was trying to teach the girl the thing, because I found out she wasn't doing the right thing,". He went on to explain that, though the girl might have a baby face, she was over 18 years old.
, currently a level 400 student of University of Education Winneba persuing a Bachelor in English Course told Showbiz music has been part of him since he was a child and despite his course at the university, it is music he wants to pursue as his career.
He said his full album of 14 songs, Ghana Get It All , is expected to be released in the next few days.
A couple of weeks ago it was in the news that, President Mills' camp wanted to use 's song to tell NDC presidential flagbearer hopeful Nana Konadu that she was only a small girl. However, told Showbiz the song "The Thing" was never meant for Nana Konadu but explained that the song was a folk song that tells the difficulties teachers go through trying to impact knowledge to students.
Asked the latest information with Fita, the group that challenged him for stealing their song, said the case was still pending .