4x4 release Waist & Power (African man) music video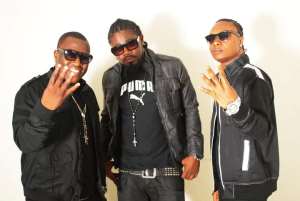 After leaving Paradise Entertainment, members of ONE8 Supergroup and AIRTEL Ghana's brand partners, 4x4, are out with their new video. It's for the first single, Waist & Power, from the upcoming album of the same name. 4x4, which is made up of Captain Planet, DeCODED (formally Abortion) & Fresh Prince, is now under X4 Records.
The video is directed by Davis Media Group, which is actually making a lot of the recent music videos coming out of Ghana including Samini's Dadiekye, 5Five's Mujay Baya and Becca's African woman.
Watch the video

Perhaps after the news of Ghanaians having the second biggest penis size after the Democratic Republic of Congo, 4x4's Waist & Power song about a strong African man follows through. Having the lady sing the "Agyei, Aaaah Jei" (cries of help :-D), and lyrics like "My waist and power dey rock" & "Me I get vim, me I get energy more than him" lend credence to this. It's funny and witty how they have these lyrics - "I am black and am proud, I am blessed with more vim, I am endowed o." First of, the "vim" man himself, Nana Boroo makes a cameo in the video. Mr. Endowed, D'Banj, who's made waves this year be featuring Snoop Dogg on the Mr. Endowed remix, is however not in the video. As you know, endowment in African music circles these days means 'penis size' (for the most part).