CK Mann at MTN Ghana Music Awards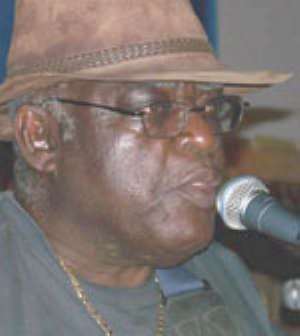 CK Man Highlife musician
With three days to go to April 9, the organisers of the MTN Ghana Music Awards have released the list of talented musicians, which includes Kwabena Kwabena, Cecilia Marfo, Becca, Efya and Sherifa Gunu. The rest are Trigmatic, the gospel group No Tribe, Samini, Iwan, VIP, Five 5, D Black, D Cryme, Florence Obinim, Princess Ifeoma and the highlife entrant Bless.
Representing the mature generation will be the highlife superstar, CK Mann, whose brand of music has proven to have more staying power than many thought. Also, joining the galaxy of stars on the night as guest artistes will be the Oleku Man, Ice Prince and Tu Face Idibia of African Queen fame.
The MTN Ghana Music Awards is as much about the award winnings as it is about the select number of artistes billed to perform at the event, which by all standards, is the biggest entertainment event on the Ghanaian entertainment calendar.
With a desire to give nominees the best treatment, deserving of stars on the night of the event, a series of protocol arrangements are being tabled.
However, a cocktail party planned to host the nominees and artistes was shelved when it came to light at a meeting between the organisers, nominees and their representatives to ensure a hitch-free event, that the nominees would be expected to join a shuttle bus to the venue, from the cocktail at the Citizen Kofi Entertainment Centre.
Preferring to arrive in their own vehicles, the nominees chose to join the shuttle bus from the car park of the State House, rather than leave their cars at Citizen Kofi, to which the organisers agreed.