Miss Malaika receives aid from Somovision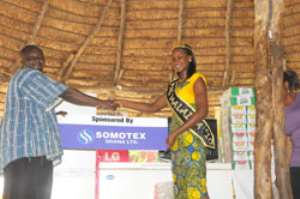 Miss. Malika Ama Netty presenting the items to Baba Ibrahim
Somovision, the electronic retail outlet for Somotex Ghana Limitg, authourised distributor for LG products in Ghana, has supported Miss  Malaika to show love to the under-privileged at the Orphan Aid Africa Home in the Eastern Region.
On behalf of Somovision, Miss Malaika presented a refrigerator, deep freezer, and a television set to the home. Presenting the items to Baba Ibrahim, who is the head of the home, Miss Malaika said that Somivision sees the gesture as a social responsibility to the underprivileged.
In a passionate speech, Miss Malaika made mention that many more organisations and individuals should endeavour to make orphanages one of their key responsibilities, to show the children love and care, since they have no biological parents.
Founded by Lisa Lovatt-Smith in 2002, Orphanage Aid Africa has been the bedrock for the poor children in Ayikuma and its environs.
Some of the children were either brought to the home by the police or the social welfare, and who had been in one way or the other abandoned, because their parents had died, or could no longer take care of them.