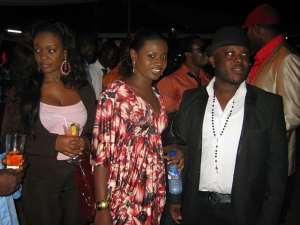 With Ghana flags hoisted all over the place yesterday, one thing was certain. That is, whatever was happening was of national interest and yes, it was the nominations party of the upcoming Ghana Movie Awards!
The event might not have started on time as scheduled but attendance was impressive. After words from the organizers and the chairman of the Planning Committee, the nominees were announced.
As you might say, usual players in the industry made their way into the nominations.
Ghana's current top actor Majid Michel, Senanu Gbedawo, J.O.T Agyemang, Prince David Osei, Eddie Nartey, Van Vicker and Ruffy Samuel were nominated in the 'Best Actor in a leading role' for English language.
Also Agya Koo known in real life as Kofi Adu is nominated alongside Akwesi Boadi A.K.A Akrobetu, Francis Kusi, Timothy Bentum and Ebenezer Donkor in the 'Best Actor In A  Leading Role' for local language.
Jackie Appiah leads his girls Juliet Ibrahim, Yvonne Okoro and Roselyn Ngissah in 4 Play in the 'Best Actress In A Leading Role' for English language. Also in that category are Martha Ankomah, Akorfa Edjeani Asiedu, Ama K. Abebrese, Lydia Forson and Luckie Lawson.
GhanaCelebrities.com will in the coming weeks, analysis each category and predict a winner before the awards day on Christmas day 25th December, 2010. good luck to all the nominees.
BELOW IS A LIST OF ALL THE NOMINATIONS
1. BEST ACTOR IN A LEADING ROLE (ENGLISH)
Senanu Gbedawu (Check Mate) Majid Michel (The Beast) J.O.T Agyemany (I Sing Of A Well) Prince Osei (Kiss Me If You Can) Eddie Nartey (Kiss Me If You Can) Van Vicker (Dna Test) Ruffy Samuel (Love & Lust) 2. BEST ACTRESS IN A LEADING ROLE (ENGLISH)
Martha Ankomah (Kiss Me If You Can) Akorfa Edjeani Asiedu (I Sing Of A Well) Ama Abebrese (Sinking Sands) Lydia Forson (A Sting In A Tale) Lucky Lawson (Desperate To Survive) Jackie Appiah (4 Play) Juliet Ibrahim (4 Play) Yvonne Okoro (4 Play) Roselyn Ngissah (4 Play) 3. BEST ACTOR IN A LEADING ROLE (LOCAL)
Kofi Adu A.K.A Agya Koo (Ama Ghana) Akwesi Boadi A.K.A Akrobetu (Sika Akuaba) Francis Kusi (Yaa Asantewaa War) Timothy Bentum (Devil's Seed) Ebenezer Donkor (Madam Moke) 4. BEST ACTRESS IN A LEADING ROLE (LOCAL)
Rose Mensah A.K.A Kyeiwaa Emelia Brobbery (Tumi) Vivian Jill (Ama Ghana) Mercy Asiedu (Abrokyire Beyie) Theresah Mensah (Yaa Asantewaa War) 5. BEST ACTOR IN A SUPPORTING ROLE (ENGLISH)
John Dumelo (Game) Ekow Blankson (Check Mate) Ekow Smith Asante (Naked Faces) Kofi Adjorlolo (Beast) Adjetey Anang (A Sting In A Tale) Kweku Sintim Misa (Check Mate) Omar Sheriff Captan (4 Play) Gavivina Tamakloe (Black Mail) Chris Attoh (Sinking Sands) 6. BEST ACTRESS IN A SUPPORTING ROLE (ENGLISH)
Nadia Buari (Check Mate) Yvonne Nelson (Game) Beverly Afaglo (Game) Rama Brew (Who Loves Me) Kalsum Sinare (Trinity) Naa Ashorkor (Check Mate) Khareema Aguiar (Check Mate) Nana Hayford (Beast) Doris Sackitey (Sinking Sands) 7. BEST ACTOR IN A SUPPORING ROLE (LOCAL)
Kofi Davis Essuman (Adults Only) Ofori Attah (Awieye) Clement Bonney (Ama Ghana) Kofi Laing (Ama Ghana Lord Kenya (Devil's Seed) Samuel Ofori (Akrasi Burger) William Addo (Madam Moke) 8. BEST ACTRESS IN A SUPPORTING ROLE (LOCAL)
Nana McBrown (Madam Moke) Barbara Newton (Abrokyire Bayie) Pearl Kugblenu (Devil's Seed) Alexis Ntsiakoh (Abrokyire Bayie) Gloria Osei Safo (Madam Moke) 9. BEST WRITING - ADAPTED OR ORIGINAL SCREEN PLAY Leila Djansi (I Sing Of A Well) Leila Djansi (Sinking Sands) Shirley Frimpong Manso ( A Sting In Tale) Benjamin K. Adu (Ama Ghana) Kobbi Rana (Kiss Me If You Can) 10. BEST VISUAL EFFECT