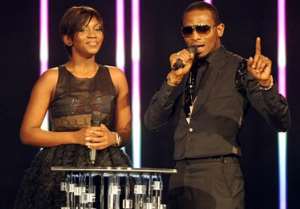 We at NFC hope that you had as much fun as we had making this remarkable news up!
E.X.C.L.U.S.I.V.E ! PREGNANT STAR ACTRESS GENEVIEVE NNAJI IN SECRET WEDDING WITH POP STAR D'BANJ.
Truth be said, we are praying this news turns to reality in the not-so-distant future.
Our sincere apology to Genevieve and D'Banj .
We are very sorry for the embarrassment this news might have caused you.
Keep laughing and we'll laugh again next year by the special grace of God.
Happy April's Fools!