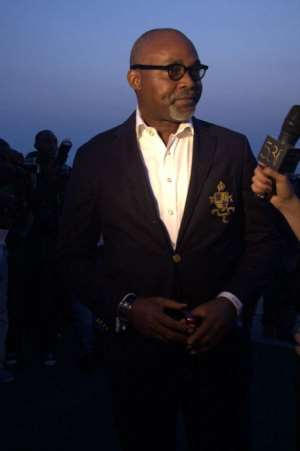 It is no longer news that a lot of Nigerian celebrities are waxing stronger in politics, and even though some of them are enjoying their stay; others are still nursing the ambition. Anthony Ada Abraham in this report takes a look at some Nollywood stars who are waxing stronger in politics.
Nigeria is known to be a strong force in world politics because of its importance in the international. Some celebrities who ventured into politics have not been able to transit the popularity in their chosen career to win an election.
Although some of them are not popular in the political scene, those who ventured into it have been counting their blessings.
Outside Nigeria, this has given rise to names like Ronald Reagan, Arnold Schwarzenegger, and Michel Martelly, who became the President of Haiti.
Some artistes have used their influence to lend support to certain political figures. An example is Barrack Obama, when he was campaigning for the White House job. celebrities helped to raise campaign funds for him.
Let's go down memory lane. The late Afro-beat musician, Fela Akunilapo Kuti in 1979 declared interest to contest the presidential election. It was not successful as he lost woefully due to his personality.
When Onyeka Onwenu vied twice for the chairmanship of Ideato local government area of Imo State, she also lost.
When Onyekwere Modestus Anayo, popularly known as Kanayo O Kanayo, declared his interest for the House of Representatives, he realised that the time was not right for it, so he decided to give it up to plan better for it.
Seasoned actor, Sam Dede, was appointed the director-general of Rivers State Tourism Development Agency.
As experienced in the last general elections, Nigerian politics has recorded an unprecedented upsurge in the participation of show-biz personalities in it.
Richard Mofe-Damijo (RMD) an epitome of cool, enduring and charming personality has taken his career to another level through his foray into the murky waters of politics. When asked in an interview how he was able to transit from the creative industry into politics…he said
'Well, it hasn't been a walk in the park, I must confess. But like every new venture I get into, it's a challenge. I guess the circumstances around which I joined politics also made it imperative for me to be at my best. My mentor is the governor and if you get an opportunity like that, there is a tendency for you to want to burn the midnight candle and surpass your mentor's expectations about you. I have not let down the guy who has reposed so much confidence in me.
This has helped because I went in blazing with all cylinders pumping.' That was iconic actor, Richard Mofe Damijo, a commissioner in Delta State.
Tony Muonagor also known as Tony One-Week, a musician and actor in Nollywood was recently elected to represent Idemili north in the Anambra State House of Assembly. Though lots of people have been saying he won his election on a platter of gold, that has not deterred his success in politics.
Akwa Ibom State-born actor, Moses Armstrong was said to be serving as a Special Adviser on Entertainment in Governor Godswill Akpabio-led administration. Moses is a gifted role interpreter who has featured in countless movies including Okon Lagos, Edikan and several others.
Hilda Dokubo is also another personality occupying a position in Rivers State government as well as Okey Bakassi, Special Assistant on Youth and Culture in Ohakim-led government.
The former National President of the Actors Guild of Nigeria (AGN), Ejike Asiegbu, was appointed a Special Assistant on Entertainment to Governor Theodore Orji of Abia State. His appointment came barely a month after his colleague Hank Anuku took up appointment as Special Adviser to the Delta State Governor, Uduaghan, on Tourism and Entertainment.
It was also reported that the Imo State-born actor, Clem Ohameze, allegedly got his fingers burnt having dumped Nollywood for greener pastures in politics.
Prior to April 2011 general elections, the industry became polarised by political interests, as the bulk of the artistes openly campaigned for President Goodluck Jonathan and other politicians contesting various political offices.
Segun Arinze, the National President of the Actors Guild of Nigeria, responded that the development is a healthy one for his colleagues but frowns at some of them using the industry's name rather than their individual names in expressing their political opinions.
As political awareness is on the rise world over, many artistes are turning to politics to promote their values in services to mankind. Whenever you see a popular face in your vicinity wanting to beg for your mandate, don't just give your mandate because they are people you know, but rather, for what they have got to offer.