Shyllon: Nollywood is destroying our culture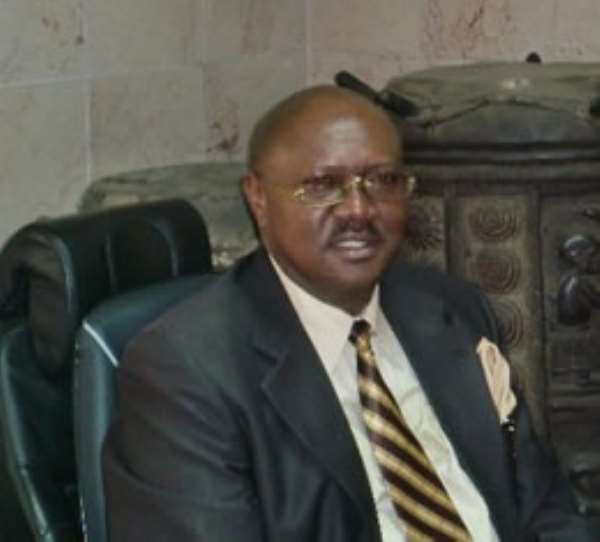 Omooba Yemisi Shyllon is a man of many callings – an engineer and a lawyer. In spite of his background, he is undoubtedly one of Nigeria's biggest art collectors, with works cutting across various genres of art, and various generations of artists. Shyllon, in this interview with TONY OKUYEME, offers insight into how he literally stumbled into the art world, the philosophy behind The Omooba Yemisi Adedoyin Shyllon Art Foundation (OYASAF), and developments in art and culture sector in Nigeria.
Although, Omooba Yemisi Shyllon is a household name in the engineering field, he is arguably more popular as an arts collector. Indeed, he needs no introduction in the art and cultural sector.
A visit to his expansive home in Maryland, Lagos, shows that it is a museum of sort. It is also like a mini-zoo, home to various species of birds and other animals.
The house offers an enduring awe-inspiring encounter with nature, cocooned in the art.
As you are ushered into his compound this bright and sunny day, by a neatly dressed and courteous security man, you are struck by the scenic beauty, the carefully pruned lush green garden adorned with sculptures at various parts of the compound, some of them appear like real human beings engaged in different activities, and savouring the beautiful scenery and the relishing the cool gentle breeze.
Everything appears to move in a rhythmic movement to the gentle touch of the wind. While one is still taken aback by this natural setting, an excited crow of a peacock jolts you with a start. Dotting different sides of the garden are peacocks, crown crenes, geese, king reed birds, and pigeon. They all appear to be excited at the arrival, as they frolicked around in excitement. Few meters away is a fish pond that is home to hundreds of cat fishes. There is also a snail farm not far from the fish pond. Making the way to his office, visitors are greeted with the kingly movement of two giant tortoise, one of which Shyllon disclosed, is over 100 years old.
His office is also adorned with various art works – paintings and sculptures of different sizes and motifs. It is no doubt the home of an artist. The fact that the man behind it is an engineer and a lawyer by training is striking. Where is the link? One wonders.
For him, the love for beauty and aesthetics is inborn. "It is an innate thing. I have always love beautiful greenery. As an artist, I have always wanted to create an environment that is a beauty to behold," he enthused.
"I find myself stumbling into the art," Shyllon disclosed. According to him, he had interest in art early, adding that he used to draw when he was in secondary school, Lagos City College. While in secondary school, he also had a stint on stage as an actor. "When I was in secondary school, I played the role of Macbeth in our school production of William Shakespeare play, Macbeth," he recalled.
However, at that time, he said, he didn't get any exposure in that area. "The only talent I believe I can excel in, was mathematics." This explains why he naturally opted for engineering. But while an undergraduate at the University of Ibadan (U.I) where he studied engineering, his interest in the art continued to grow. He recalled that in his undergraduate days in UI, he watched virtually every play staged on the campus.
Shyllon began collecting visual arts during his days as an undergraduate, using savings from his scholarship. His interest in the visual arts grew into a passion, and during the subsequent 30 years, his collection grew to over 6 000 pieces of African antiquities, traditional and neo-traditional pieces, and
contemporary Nigerian art - the largest private collection in Nigeria.
On why he founded OYASAF, he said that it was born out of a commitment to leave a legacy to the world.
"I asked myself: Leave a legacy? What legacy? I looked around and I felt that I can do that through art. "I am somebody who believes that we have this greatness in us. We want to provide a source of pride to the world. If we don't promote our collective identity, our individual identity would have no value. I am very proud of my fathers roots. I so much believe in our past. Art makes me happy. Institutions outlive people".
OYASAF, Shyllon said, is a non-profit organisation established in 2007 to promote the appreciation and study of Nigerian arts and artists, making the collection available to museums, educational institutions, and scholars. OYASAF, he explained, was formally launched in 2008.
"OYASAF's goal is to be a hub of the Nigerian art world, a point of contact for scholars, critics, artists and enthusiasts. The Foundation seeks to build a broad international audience for Nigerian arts, and encourage international researchers, critics and curators to focus on Nigerian arts and artists, particularly those in the OYASAF collection; encourage and support art education and appreciation in Nigeria; and establish interactive fora with other global foundations and museums to to develop the field of art education in Nigerian art and culture and jointly drive the evolution of art and culture in Nigeria".
According to him, OYASAF's activities include exhibition loans to museums and universities; fellowships to encourage international scholars to focus on Nigerian culture; publications; Art and Photography competitions; seminars, workshops and other educational activities in Nigeria.
"We are a self-supporting foundation. We have over 6,000 pieces of artworks in OYASAF. It is Nigeria's largest and most balanced art collection in all the areas of Nigerian and African visual arts.
"Its objectives include attraction and retention of research scholars, institutions and art curators interested in conducting studies around the foundation's visual art collections; exploration and generation of opportunities that exist globally for research, collaborative exhibitions, workshops, seminars and talk-shows in relation to the visual art collections of the foundation; and global identification and establishment of possible present and future collaborative institutions and organisations to work with the foundation in building it into a formidable art institution for promoting the arts and culture of Nigeria.
"OYASAF's objectives also include the establishment of interactive fora between our foundation, other global foundations and museums for the exchange of information and co-operation in order to develop the field of art education in Nigerian art and culture and jointly drive the evolution of art and culture in Nigeria.
"The vision of OYASAF as an objective in perpetuity, is to be the leading and indisputable hub of art participation, research, preservation, appreciation and enlightenment in Nigeria, covering African Antiques, Traditional and Neo-traditional African art and Contemporary African art of all forms
and shades as a means of dignifying and propagating African culture amongst the comity of Nations of the world.
"The mission of OYASAF is to, at all times, provide art and artistic recreational facilities, events, activities and services with the use of OYASAF's continued collection in its museum and promotion
of visual arts in the positioning of African art, for a pride of place within the continents of the world," he said.
According to him, the whole essence is not to make money but to expose creativity of my people to the world.
However, Shyllon is not happy with Nollywood. "I see them as helping to destroy our culture in terms of portraying African religion in a negative way. The whole essence of film is perception. Films go a long way in influencing people's perception."
"I do not see any hope in government intervention in culture and arts in Nigeria. The hope I see lies in private sector and stakeholders coming together to help the sector.