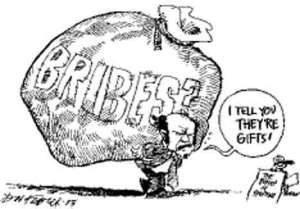 The Ghanaians United Association wishes to appeal to Ghanaian radio stations and radio personalities in the UK to stop collecting monies from political parties this deplorable act undermines press freedom and objective news reporting .We are appealing to these radio stations to stop this filthy and dishonest practice .We have decided to publish the names of the following Radio stations for them to stop this practice .
1. Voice of Africa Radio-receives regular money from the National Democratic Congress. Its owner Mr Space Clottey is a sympathaiser of the NDC and arranges fundraising events for them.
2. Naspa Radio-Collects monies from NPP to do Propaganda against the NDC-THE NUMBER ONE NPP STATION.
3. DJ Vandyck and Hot FM- Mr Vandyck is a secret fundraiser for the NDC and currently is alleged to be on payroll of the Ghanaian National Security. He receives 2000 dollars every month. He has been told to use his station Hot fm to frustrate other political parties and support the promotion of NDC to the Ghanaian community.
4. Radio Focus-Former Morning Show Host Ernest Owusu Bempah was sponsored by Nana Konadu Agyeman Rawlings and Raymond Archer to do Propaganda for NDC . His replacement DJ Mogabe and his host Sankfa Tete Danso were approached by NDC officials at the castle to promote the Interest of NDC. They now receive 1200 dollars a month.
5. Devine Radio-Although there is no evidence to suggest they are on anybody's payroll, the NDC and NPP have approached the DJs with money and other financial gifts to hijack the stations Agenda
6. GFM Radio-A radio station alleged to be sponsored by John Mahama, the Vice President of Ghana with regular amounts of 1000 dollars a month.
We do this in good faith and hope that will serve as a deterrent to those who are greedy, and undermine our democracy by collecting money to restrict press freedom.
Thank You
Ivan kojo Baiden-07506611016
Secretary
Ghanaians United Association
Milton Keynes
England