Apr 14, 2020
Data Is One Of Our Most Powerful Weapons In The Fight Against COVID-19 –Bawumia
The Vice President, Dr. Mahamudu Bawumia has stated that the gathering and availability of data have played a significant role in Ghana's battle against COVID-19 so far.
Identifying suspected cases, testing and tracing contacts of confirmed cases and treating them has become the most effective way of tackling the virus around the world, and with nearly 40,000 tests conducted so far, Ghana is ranked among the top 20 countries in the world as far as per capita testing of COVID-19 is concerned.

---
Apr 13, 2020
Only vaccine will stop global virus spread, WHO chief says
By BBC News
Only an effective vaccine against the coronavirus can "fully interrupt transmission" of the disease worldwide, the head of the World Health Organization (WHO) has said.
Tedros Adhanom Ghebreyesus told a media briefing that the "global connectedness" of the world meant the risk of a resurgence of Covid-19 would continue.
"Ultimately, the development and delivery of a safe and effective vaccine will be needed to fully interrupt transmission," Dr Tedros said.
Most experts say a vaccine that gives people immunity to coronavirus will not be developed and mass produced for at least a year.
Read more: Are we getting closer to a vaccine or drug?
As some countries consider lifting social-distancing restrictions, Dr Tedros cautioned against doing so until "the right public health measures are in place".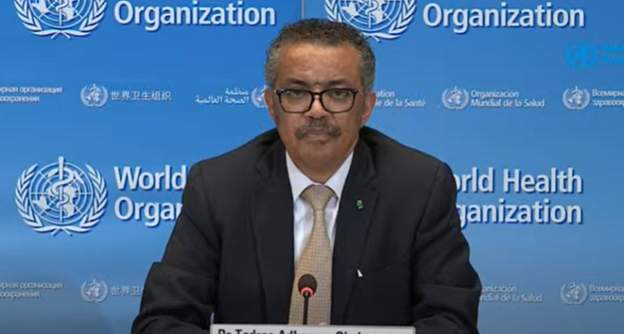 World Health Organization
---
Apr 13, 2020
Trump: US disease expert Fauci 'won't be fired'
By BBC News
The White House has denied that President Trump plans to fire top US disease expert Dr Anthony Fauci, less than a day after Trump retweeted a comment calling for Fauci's removal.
"This media chatter is ridiculous - President Trump is not firing Dr Fauci," the latest statement reads.
"The president's tweet clearly exposed media attempts to maliciously push a falsehood about his China decision in an attempt to rewrite history," said the statement from Trump aide Hogan Gidley, referring to Trump's decision to block visitors from China in late January.
The speculation was largely driven by Trump himself, who retweeted "Time to #FireFauci" hours after the doctor appeared on CNN saying that if mitigation techniques had been employed earlier, more US lives could have been saved.
Read more here:
Fauci says US 'could have saved lives' with earlier action
---
Apr 13, 2020
McDonald's in China apologises after Africans banned
By BBC News
McDonald's in China has apologised after one of its restaurants in the city of Guangzhou banned black people over fears that Africans were spreading coronavirus.
The company said the outlet had closed for half a day on Sunday for training on "diversity and inclusion".
There have been widespread reports of discrimination against the large African population in Guangzhou.
On Monday, a Chinese foreign ministry spokesman said China treated all foreigners equally - although he added that the authorities in Guangzhou would adopt "new" measures.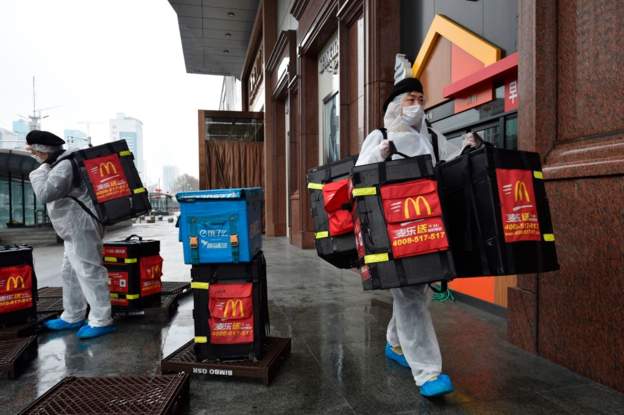 Getty Images
---
Apr 13, 2020
How will my children survive Lagos lockdown?
By BBC News
Nigerian President Muhammadu Buhari has ordered a two-week extension to a lockdown in largest city Lagos, neighbouring Ogun state and capital Abuja.
Confinement measures have been in place since 30 March and Buhari said in a televised address that "it has become necessary to extend the current restriction of movement", which was set to expire later on Monday.
"We must not allow a rapid increase in community transmission," Buhari said. "We must endure a little longer."
Africa's most populous nation has so far reported 323 confirmed infections and 10 deaths, but testing has been limited to 5,000 samples. The measures have proved difficult in a country where almost half the 200 million population live in dire poverty.
The lockdown affects more than 25 million people, many of them living in congested neighbourhoods. The government has pledged a raft of support measures to ease the financial pain, but many are worried about how they will cope.
"It is hunger I am worried about, not a virus," Debby Ogunsola told the BBC.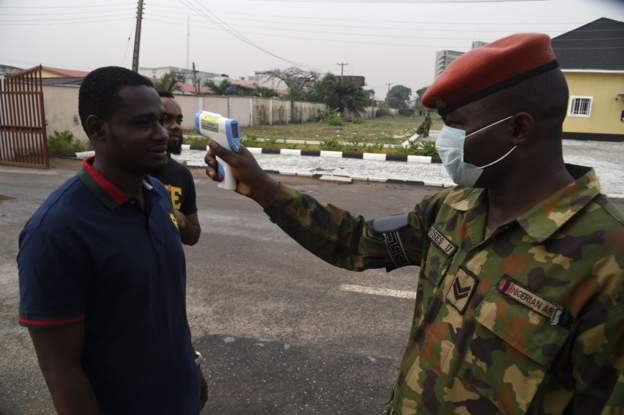 Getty Images
---
Apr 13, 2020
COVID-19 Donations: Tamale Residents Laud Dr. Anyars For His Continuous Efforts In Valuing Their Health
Residents of Tamale Central Constituency have applauded Dr. Ibrahim Anyars, NPP Parliamentary Candidate for the Tamale Central Constituency for his outstanding contributions to the welfare of the people in the constituency.
For the past weeks, Dr. Anyars has been donating sanitizers, veronica buckets, soaps, basins, and gloves to all constituents without discrimination. Whiles receiving the items, many of the residents acknowledged his continuous efforts in providing social interventions that improve the lives of the people, noticeable among them are regular free medical treatment and screening in the constituency.

---
Apr 13, 2020
COVID-19: South Africans In Ghana Repatriated
Some 100 South African nationals who were in Ghana on short stay were Monday repatriated back home.
The South African Ambassador to Ghana, Lulana Ximgwana, who escorted them to the Kotoka International Airport (KIA), said the repatriation involves South Africans who came to Ghana on special missions and had completed their jobs.

---
Apr 13, 2020
Prayers Alone Won't Stop COVID-19 — Togbe Afede
The President of the National House of Chiefs, Togbe Afede XIV, has urged traditional and religious leaders to support the national efforts toward stopping and containing the coronavirus (COVID-19) pandemic, in the country.
He said while the role of both traditional and religious leaders cannot be underestimated in the bid to end the spread of COVID-19, they should be mindful of actions that goes against the measures put in place by the government.

---
Apr 13, 2020
COVID-19 Can Spread Farther By Those Exercising Outdoors — Simulation Research
TAMPA, Fla. - They're too small to see, but knowing they exist could play a big role in avoiding COVID-19 .
Researchers in Belgium and the Netherlands created simulations that show even if you're exercising outside, you could be exposed to the novel coronavirus through what's called a slipstream.

---
Apr 13, 2020
COVID-19: No Field Staff Has Tested Positive In Eastern Region – NIA
The National Identification Authority (NIA) has denied claims that its field officers in the Eastern Region have tested positive for novel COVID-19.
According to the Authority, information circulating on social media which indicates that three NIA officials in the Eastern Region have tested positive for the disease is false.

---
Apr 13, 2020
Covid-19: Residents Mass Up At Asokwa For Gov't Free Food
There was drama and scrambling at Asokwa in Kumasi on Monday afternoon as a sea of 'hungry' people stormed the streets for government free food.
Officials of the National Disaster Movement Organization (NADMO), did the distribution and had gone to the place quietly but residents got the information and besieged the place which is on lockdown as part of the effort to curb the spread of the Covid-19.

---
Apr 13, 2020
Covid-19: Gov't Issues Guidelines For Distribution Of Free Food
Government has issued strict guidelines on the distribution of cooked and uncooked food packages across the country as part of the coronavirus relief support.
The guidelines come as images emerge of a thick crowd in Kumasi during the distribution of some relief items by the National Disaster Management Organization (NADMO).

Cynthia Morrison
---
Apr 13, 2020
COVID-19: Immigration Begs Border Residents For Information On Illegal Migrants
The Ghana Immigration Service (GIS) is urging residents in communities along the country's land borders to volunteer relevant information on persons who illegally sneak into the country.
The GIS said Ghana will be able to combat the novel coronavirus disease with local people cooperating with them in that regard.

---
Apr 13, 2020
COVID-19 Rising Cases: Nurses & Midwives Worried Over Poor Facilities In U/W
Ghana Registered Nurses and Midwives Association has expressed deep concerns over the safety of its members in the Upper West Region in the wake of the outbreak of Meningitis and COVID19 in the region.
In a release signed by the Upper West Regional Chairman, Lawrence Bagrewmwine, the association expressed worry that most health facilities in the region are not well resourced to fight the COVID-19 pandemic, thereby putting their members at high risk.

---
Apr 13, 2020
Ghana Ahead Of US, UK In Covid-19 Testing — Bawumia
Vice President, Dr. Mahamudu Bawumia who performed the launch of the Covid-19 Tracker said the enhanced contact tracing by the government has helped the nation in chasing the virus and trying to get ahead of it.
"We are ahead of the countries such as the USA and UK in this and we are also pursuing a strategy of aggressive testing. In terms of testing of the Coronavirus, Ghana, on the basis of the available data we have, is in the top 20 of countries in the world and on the basis of this data too, in Africa, we are number one per capita in terms of testing. In terms of numbers of tests, South Africa is number one and we are second but in terms of testing per capita in terms of testing per our population, we are leading in the continent."

---
Apr 13, 2020
Ghana's COVID-19 Tracker Will Stem Spread – Ursula Owusu
The Communications Minister, Ursula Owusu-Ekuful says the newly launched Ghana COVID-19 tracker will boost the country's fight against the pandemic by providing accurate data to curb the spread of the virus.
She says the tracker has been designed to quicken the contact tracing efforts and also to discover information that may be difficult to gather through the manual process.

---
Apr 13, 2020
Covid-19: Hassan Ayariga Support Residents Of Kiosk Estates, Kings Cottage In Accra
The leader and founder of the All People's Congress (APC), Dr. Hassan Ayariga distributes food items and sanitizers to vulnerable and less privileged people who are hit by the hardship of the covid-19 pandemic.
Dr. Hassan Ayariga on Monday shared food and sanitizers to residents at Kiosk estates in Trasacco and section of kings cottages settlers in Accra.

---
Apr 13, 2020
Bawumia Launches Covid-19 Tracker App
Vice President, Dr Mahamudu Bawumia, has launched the Covid-19 tracker application aimed at supporting the government's response to the coronavirus(COVID-19) outbreak in the country.
Dr. Bawumia in a live telecast during the virtual launch of the app, said the tracker is intended to provide assistance which will augment the state's efforts in the fight against the global pandemic.

Vice President Dr. Mahamudu Bawumia
---
Apr 13, 2020
Covid-19: 43 Contacts Traced To Walewale Case
The North East Regional Health Director, Dr. Abubakar Abdulai, has disclosed that some 43 contacts have been traced after a 19-year old boy died of covid-19 in the region.
According to him, out of the 43 contacts seven are health staff made of three from a herbal clinic where the deceased first visited and four from the Walewale government hospital.

---
Apr 13, 2020
Covid-19: Allied Health Professionals Pull Out From Contact Tracing
The 2017 and 2018 batch of the unemployed Allied Health Professionals who are voluntarily assisting in contact tracing of covid-19 patients have threatened to pull out of the exercise effective today, April 13.
Their action, they said is warranted by the neglect and unfair treatment being meted out to them by the Ministry of Health regarding financial clearance for recruitment.

---