OSGOOD AFARI, CEO OF OSGOOD POPS
In today's world, we often hear of young entrepreneurs who are making waves in their industries, but few have a story quite like Osgood Afari. Osgood, a recent graduate of the University of Education, Winneba, took a bold step during his national service by starting his own business, Osgood Pops & Yoghurt and Queen & Kings Bar. Based in Asankrangwa, Osgood Pops has quickly become a local favourite, offering a wide range of tasty treats, including popcorn, fresh yogurt, asaana, pitoo, ice cream, and pastries.
What's truly impressive about Osgood's story is that he didn't wait for the government or anyone else to create opportunities for him. Instead, he took the initiative to start his own business and provide employment for himself and others. Despite not receiving a post from the government after completing his national service, Osgood has shown that he is not one to give up easily.
Now, with five employees working for him, Osgood Pops is thriving, and Osgood himself has become an inspiration to other young people in his community. His story is proof that one should not rely solely on their field of study or the government for opportunities, but instead, should take the initiative to create their own path. Osgood's success is a reminder that with hard work, dedication, and a bit of creativity, anything is possible.
In addition to providing delicious treats to the people of Asankrangwa, Osgood Pops is also a testament to the power of entrepreneurial spirit. Osgood's story serves as a call to action for governments and societies alike to support young people who take the initiative to start their own businesses. By doing so, we can help create a brighter future for everyone.
In conclusion, Osgood Afari is a young entrepreneur to watch. His story is an inspiration to anyone who has ever dreamed of starting their own business, and his success is a testament to the power of hard work, determination, and a little bit of risk-taking. We can all learn from Osgood's example and strive to make a positive impact in our communities, just like he has.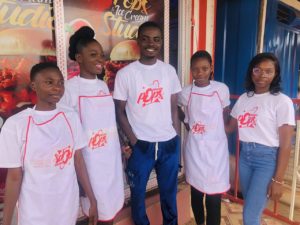 Ebenezer Ansah-Boafo