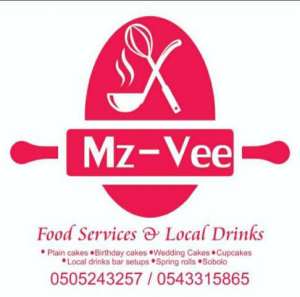 Looking to be served with the best local drinks, foods, and cakes at your wedding engagement, parties, birthdays, funeral, naming ceremonies or what have you, then make Mz-Vee Catering Services your preferred partner.
At Mz-Vee Catering Service, we prepare the best nutritional local drinks, foods, as well as continental dishes made of natural ingredients.

As a fan of cake, don't stress because we have got you covered for not only your birthday and wedding but cake for any occasion.

Our best local drinks including sobolo, asana, lamojin, prekese drinks, palm wine, among others have been well-rated and recommended for all social events.
Our special sobolo is carefully made and spiced up with ginger, cloves, as well as peppercorn.

For our irresistible lamojin, it is made with millet which is properly washed and cooked in a siren environment. It is made with local ginger, milk and peppercorn to give it that distinctive taste.
Enjoy our drinks and get to reap the health benefits too. The ingredients in our sobolo means that you will have your immune system boosted after a small intake to help in blood circulation.
The special milk added to our lamojin nourishes your body and promotes the treatment of many forms of nausea, especially morning uneasiness.
The drinks and foods are crowned with excellent service and aesthetically display in a neat and attractive style to wet your appetite the more. We are ready to serve you in any part of the country.
Contact us via 0505243257/0543315865.
Watch more images of some of our menus below: