Flushable Mobile Toilets for Home Use - Porta Pott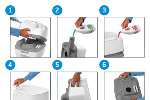 Flushable mobile toilet for use in homes with no constant supply of water. Very convenient unit whic...

I am the living bread...if any man eat of this bread..live for ever. How.... give us his flesh to eat?--Spiritual things are spiritually discerned.
By: lamptey