Yamaha Pro Audio Speakers & Musical Instruments
Your professional audio speaker and musical instruments shop. Follow on twitter @yamahaghana or Face...
Home piano lesson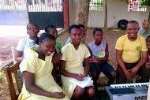 Avail yourself for our home piano lesson right in the comfort of your home,choose your time and day,...

Love is not enough. It must be the foundation, the cornerstone - but not the complete structure. It is much too pliable, too yielding.
By: roylexi.com