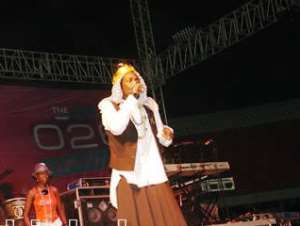 So what in the name of goodness could have persuaded Kwaw Kesse to forego his performance at the MTV Africa Music Awards with Zain (MAMA) in favour of the Zain 026 Experience concert? 'Madness'? I don't think so! Perhaps the money was too good to refuse.
Kwaw Kesse was initially billed to perform at the MAMA in Abuja on Saturday November 22 but rather chose to stay home for the other Zain sponsored event. The MAMA which will premiere on MTV Base, November 29 will also air on all MTV networks around the world (at least that's what Alison Reid, Head of Communications for MTV says). The benefits of such an exposure to Kwaw Kesse's career cannot be overemphasized or bought with all the Zain millions. Not forgetting that he was also nominated for best New Artist...of course we all knew he wasn't going to win that when the likes of Naeto C, who understands the business of showbiz was also on the list.
I may not be an economist but let look at the opportunity cost or rather opportunity lost through Kwaw's decision. The Zain 026 experience was largely unimpressive and Kwaw Kesse ended up being booed by a disappointed or frustrated crowd. When I asked Kwaw Kesse his reason for choosing the Zain 026 Experience concert over MTV, he said he is the 'King of the Streets' and he needed to put his people first by showing them love. These same people ended up booing him away. That doesn't do much for his street credibility if you ask me!
Perhaps Kwaw's reason for staying in Ghana was to grab the opportunity to collaborate with Wyclef...no wonder he asked Wyclef publicly for a collaboration during a press conference ahead of the concert. We haven't heard anything on that yet instead Wyclef did a song with Reggie Rockstone and even shot a video for the single.
In a nutshell, Kwaw Kesse had the opportunity to be famous across Africa and the rest of the world but rather chose to be a local champion. I think he lost out!