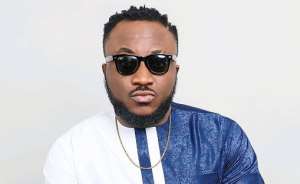 Ghanaian comedian DKB has revealed that he has invoked curses on a Graphic Showbiz reporter who he believes messed his carrier with a false story.
It is recalled that in 2017, a reporter with the Graphic Showbiz put out a story claiming that the wife of ex-president Jerry John Rawlings after watching him (DKB) perform at an event that year remarked that he was not funny.
This, according to DKB was the beginning of doom to his career as the story broke bounds and spread wildly across all media platforms in the country despite Mrs. Nana Konadu Agyemang Rawlings' rebuttal to the publication.
"People have written several false things about me and that is no problem but this particular brought me down, destroyed my career, and blocked all my chances," he painfully recounted.
He revealed that in her quest to prove she had nothing to do with the said publication, Mrs. Rawlings invited him to perform at her 70th birthday ceremony.
"Will she have invited me if I was not a good comedian?" he queried.
DKB added that he was preparing to host the second edition of his show, 'Point of View' but had to put it on hold after the publication which according to him dropped his ratings.
When asked whether the Graphic Showbiz extended apologies to him, DKB stated that he was not interested and revealed that all he had to do was to curse the reporter.
The event which was held at the Accra International Conference Center in 2017 had DKB as the headline comedian for the night alongside Jacinta, Lexcy De Comic amongst others.
A report from Graphic Showbiz reporter Jayne Owoo Buckman saw several negative descriptions by the reporter.
Five years down the line, DKB says he still keeps evidence of curses made by him towards the lady on his phone and he has vowed that the reporter will suffer her entire life for ruining his source of livelihood.