Hollywood star Boris Kodjoe is in Ghana again for the Full Circle Festival organised for diasporans as part of the Year of Return initiative.
The actor in the country with the mother of American singer Beyoncé, Tina Knowles, on December 27.
The two were spotted at the Kotoka International Airport and were warmly received by the Year of Return team, who met them with a traditional dance.
The two came with some family members including actress Nicole Ari Parker, wife of Boris Kodjoe.
The arrival of the of Tina Knowles in Ghana has left social media tossing out rumours and possibilities that Beyonce is currently in Ghana.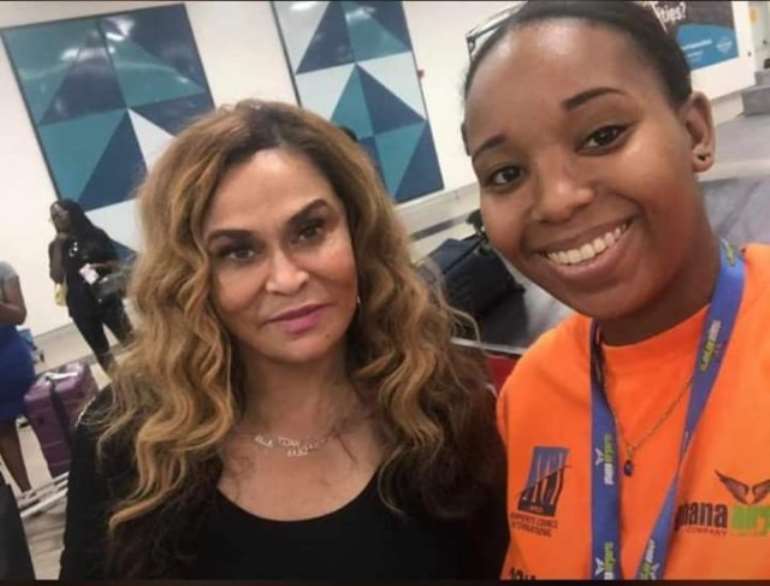 Tina Knowles took photos with some of the airport's staff
Boris Kodjoe and Nicole Ari Parker made it to Ghana in 2018 for the Full Circle Festival. They travelled to the country with about 40 Hollywood stars including Micheal Jai White and Anthony Anderson.
About the Year of Return
It has been exactly 400 years since the first black slaves landed in Jamestown Virginia in the US.
Ghana initiated the Year of Return to invite all diasporans back home to not only learn more but explore and even invest in the country.
Since this initiative began many African Americans have made their way into the country to learn more about their history.
The Tourism Ministry outlined numerous activities including the 'December in Ghana' events to bring the Year of Return to a fruitful end.
The programme includes Afro Nation, Afrochella, Gold Coast Experience, Full Circle festival, Ghana Festival of Light and many others.
President Nana Akufo-Addo, on December 17, launched the 'Beyond the Return: The Birthright' initiative set to replace the Year of Return.
Speaking at a media encounter on December 13, he disclosed the program 'Beyond the Year of Return: The Birthright' has a whole set of outline that aims to continue the mission of bridging the distance between Africans and the diasporans.
Story by Myjoyonline.com