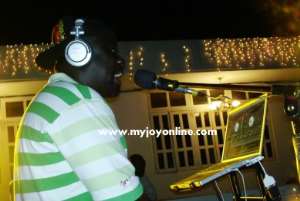 DJ Black doing his thing at the open-air upper terrace of Aphrodisiac night club

The nation's leading radio station Joy 99.7 FM and it's most listened to radio programme, Open House Party, on Saturday stormed Ghana's favourite night club, Aphrodisiac night club.
It was another unforgettable chapter in entertainment when the Joy Hits Squad lead by DJ Black (the finest), Nii Ayi Tagoe and Bola Ray took the fun-packed show to the open-air upper terrace of the club and then later to the dance floor of the club.
Many were actually amazed and delighted that their favourite radio programme and its presenters were actually at their sight dishing out most of their favourite tunes.
The attention-grabbing show compelled even people driving by to stop, just to catch a glimpse of the live production and, possibly, interact with it's presenters.
The show, having built up at the open-air upper terrace, moved to the main club where DJ Black proved that he is not just called Ghana and Africa's number one DJ for nothing. He got the whole club enthusiasts dancing all night-long.
Artistes, Kwaw Kese (king of the streets), R2Bees, Nana Boroo, Tinny, 2Toff and a host of others were also there in their numbers to add a celebrity touch to the show, and when Kwaw Kese took the floor to show off his 'madness', the clubbers went bionic hailing their king with every song he sang.
The Open House Party show, as well as its DJ, DJ Black, has over the years won several awards and it has become a must listen to radio program in the capital, Accra, with others listening to it via the web and through satellite.
It is a never-miss programme for the youth and it is the ultimate party starter for a Saturday night. Just tune in every Saturday at 8 pm on Joy 99.7 FM and make sure to join the party train on its next 'out of the studio' party.
Story by Ernest Dela Aglanu/Myjoyonline.com/Ghana