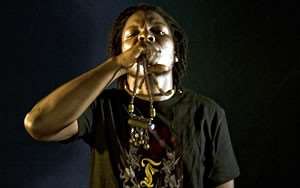 It is interesting how popularity seems to easily sway people into doing anything to be recognized. Funnily, I wouldn't want to be in such a situation, where even the toothless in town sees you and gives you a jocose smile, don't forget the no tooth smiles. Or so annoying it is, to see people giving you pepsodent smiles, just for you to say hi to them. I don't envy people in celebrity world at all, at least people see me and nothing happens, whereas they will see somebody like Ayigbe Edem and go wild.
When, Jeremy of Y FM and co had the 2131 party, the place was filled with so many people that, people there thought the invitees invited so many people to their chagrin. According to guests, the show turned out to be like an exhibition, making it impossible for you to have air to breathe.
To apologize for their poor organization and all, Jeremy together with organizers of the show, had to make up for what they did. So, they organized an 'I AM SORRY' party for all the artistes invited to that show.
The invitation went like this: YOU ARE INVITED TO EAST LEGON TO MEET PRESENTERS FROM CNN. ON THE LIST IS RENOWNED PRESENTER TOM HUGHES, WHO WILL BE INTERVIEWING YOU AND THIS, WILL BE TELECAST ON CNN. TIME AND VENUE IS EAST LEGON, BLA BLA BLAAA.
The invitation was sent out to people like Ayigbe Edem, Echo, Nii, Hammer etc. So the 'D' day came, and come and see everybody ready to be on set. People actually bought boxers to match their shoes hahahah. Edem looked his best; I think that outfit was one of his best. Who doesn't want to be on CNN anyways? After they were sure everybody was there, Jeremy asked them to listen and then, she told them they were off to the airport to bring the crew from CNN. Well, you could actually hear hearts yelling. Then she went into the room, and brought out sheets of papers.
On the paper was: WE ARE SORRY YOU'VE BEEN PUNKED!!!
Wow, come and see the disappointment on everybody's face. Most of them were angry but what can they do. They made jokes out of it, but Edem was so angry because he actually dressed to kill.
According to Hammer, he thought this was an opportunity for Ayigbe Edem to show his talent to the world. Though he laughed about it, mann you could see the man, angry. Like they will say in Twi 'Mi siri na nsu me mu na mi trim' (I am laughing but there's anger behind the smile). Na waa for me, translation is pretty bad, but I know you get the picture.
I sat down listening to Jeremy telling this story and the faces on set, speaks volumes. But seriously, why would CNN organize something like this without advertisement. I am not trying to create the impression that, people who went are dunce. No way, but they should have made sure. It could be that, they knew what whassup and pretended not to, well if that's the case, then the joke is on the organizers. If not, seriously, I would have double checked before buying the latest Luis Vuitton for that occasion.
My advice to artistes is that, next time they tell you, YOU HAVE BEEN PUNKED, be bold enough, and tell them you want TO BE BACK BUSHED!!!
Matilda Wilson/Ghanamusiconline