Dreams FC Coach Accuses Referees Of Cheating Them Because GFA Boss Kurt Okraku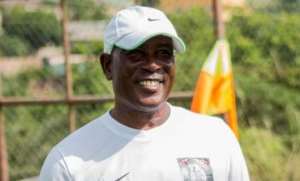 Following their 1:0 defeat, Abdul Karim Zito has accused referees of being partial towards them because of their association with Ghana Football Association President Kurt Okraku.
Kurt resigned from his role as Dreams FC Chief Executive Officer last year after he won the GFA presidential elections.
But according to Zito, Kurt Okraku's involvement in the club is having a negative effect on them in the league this season.
He was certain they should have been awarded a late penalty when Eric Gawu was brought down in the 90th minute.
"We are being punished because of the GFA President Kurt Okraku, the referees should be firm and do their job, they should be free in their minds when officiating in our matches," Zito told reporters.
"The referee (Morrison Esso) felt had he whistle for a penalty in that minute, people will say he did that because of the GFA President who is the former Executive Chairman of our club."
"Now it's GIGI and Prince who are leading the club, referees should know this and allow us to play our football."
Dreams FC lost to Hearts of Oak in the matchday seven fixtures at the Theatre of Dreams. The defeat leave them at the 8th with 10 points.