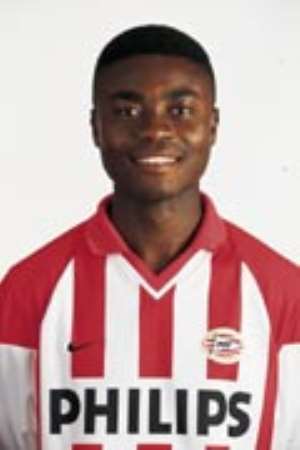 The knee injury that Eric Addo sustained during the league game, away against AZ on Sunday afternoon, is far less serious than was feared. The defender may even resume training on Thursday again.
Addo, who filled in for André Ooijer, had to leave the pitch in the Alkaarderhout on 38 minutes. The Ghanaian picked up an injury by a wild challenge by Kew Jaliens, which did not result into a booking. Addo had to be carried off the pitch by Mart van den Heuvel and PSV doctor Cees-Rein van den Hoogenband. It was feared at first he had sustained serious damage to his knee, but one day later things look much brighter for him. The 27-year old defender had his knee examined in hospital and it has been revealed he has not sustained any serious damage.
One day after the incident Eric Addo announced that he was given a terrific scare. "It was very painful, but fortunately I feel much better. But I felt so scared yesterday." Addo will be rested the next few days and will face a test on Thursday to find out whether he is able to resume training.