Quartey Return in No Laughing Matter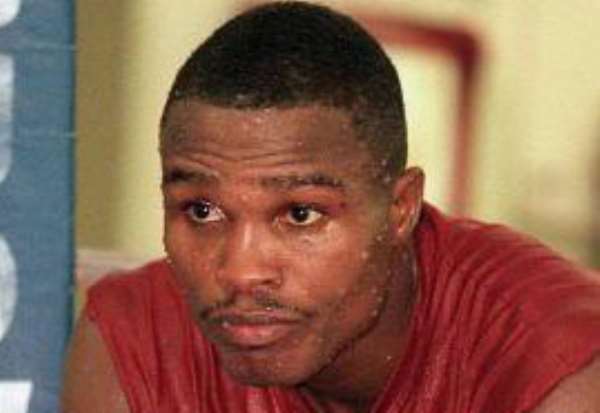 New York - DiBella Entertainment's Ike "Bazooka" Quartey (36-2-1, 30 KO's) will continue on his comeback road toward a world title opportunity when he squares off against Carlos Bojorquez (25-7-6, 21 KO's) on Saturday night, December 3, live on HBO Pay Per View from Mandalay Bay Resort and Casino in Las Vegas.
The Quartey-Carlos Bojorquez contest is a 10-round junior middleweight affair, and will be one of the featured televised attractions on the "No Respect" Jermain Taylor vs. Bernard Hopkins II undercard.
Quartey took a break from his "serious" training regimen in the Poconos to join promoter Lou DiBella, the president of DiBella Entertainment, at a news conference at The World Famous Laugh Factory in New York City. The native of Accra, Ghana, is looking for his third straight victory since his return to the ring earlier in 2005 following a five-year hiatus. Prior to his temporary retirement, Quartey, the former WBA Welterweight World Champion, had clearly illustrated that he was one of the top fighters in the game with a controversial split decision loss to Oscar De La Hoya and a narrow decision defeat to Fernando Vargas in 1999 and 2000 respectively.
In the main event on December 3, Undisputed Middleweight World Champion Jermain 'Bad Intentions' Taylor (24-0, 17 KO's) and former Undisputed Middleweight Champion Bernard 'The Executioner' Hopkins (46-3-1, 32 KO's) will reconvene in the long-awaited rematch of their July 16th battle. The rematch - Taylor vs. Hopkins II, "No Respect" - will take place Saturday, Dec. 3 at Mandalay Bay Resort & Casino in Las Vegas, Nevada. "No Respect" is presented by DiBella Entertainment, Inc. and Golden Boy Promotions, Inc. in association with Mandalay Bay.
The Taylor vs. Hopkins 2 pay-per-view telecast, beginning at 6 p.m. (PT) / 9 p.m. (ET) on Saturday, December 3, has a suggested retail price of $49.95, will be distributed by HBO Pay-Per-View and will be available to more than 50 million pay-per-view homes. The telecast will be available in HD-TV for those viewers who can receive HD. HBO Pay-Per-View is the leading supplier of event programming to the pay-per-view industry.
Tickets, priced at $800, $600, $400, $200 are on sale now at the Mandalay Bay Theatre Box Office. Tickets also will be sold at all Las Vegas Ticketmaster locations (Tower Records/WOW!, Smith's Food and Drug Centers, Robinsons-May stores and Ritmo Latino). To charge by phone with a major credit card, call the Mandalay Bay box office at (702) 632-7580 or Ticketmaster at (702) 474-4000. Tickets also are available for purchase at www.mandalaybay.com or www.ticketmaster.com.