Asante Kotoko Hope To Benefit Immensely From Soccerex Trip - Club's Policy Analyst Amo Sarpong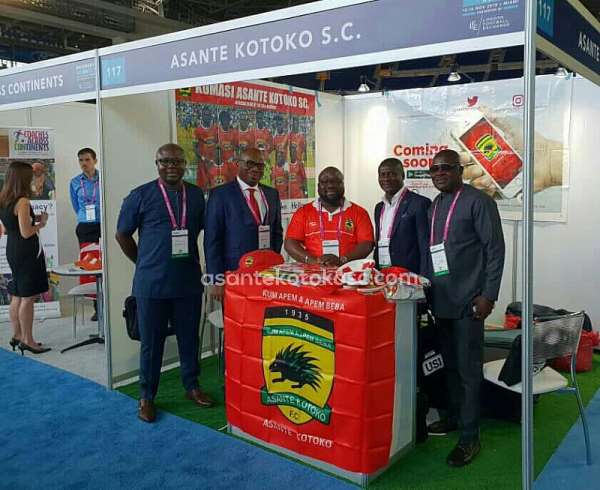 Ghana Premier League giants Asante Kotoko are confident their trip to Soccerex this year in Maimi, Florida will yield dividends.
The African Club of the Century are among the four clubs who were licensed as exhibitors at the football business convention.
Other clubs at the event are Argentine side Club Estudiantes de la Plata, Miami FC (USA) and Brazilian giants Internacional (Brazil)
Chief Executive George Amoako, the club's Policy Analyst Dr Yaw Amo Sarpong, Larry Opare Otoo of Primeval Consult and Yusif Chibsah at Marlins Park for the two-day event.
At their nine-meter square stand, they displayed the club's paraphernalia, local and international trophies, infrastructure, management policies, plans, and proposals.
''If I tell you the number of people I have spoken to today (Thursday), the number of cards I have collected from clubs across, you will know that if Kotoko decide to go for off-season training or whatever outside Ghana, it becomes easier with time,' Dr Sarpong told Joy Sports at Marlins Park on Thursday.
''It becomes easier with time looking for a team that will buy some of our players, it becomes easier to get sports kits, supplies, even nutrition and food sources, to manage our gates, bring in new strategies to increase our portfolio as a club, increase our supporter base that will attend the stadium, to at least increase our profile online.
'It is amazing the number of people who have added to our Twitter handle. When we came we were at 62, 200 and when we finish the interview, check our Twitter handle you will know the numbers that have added on.''