Ghana's Last Medal Hope On Gaisah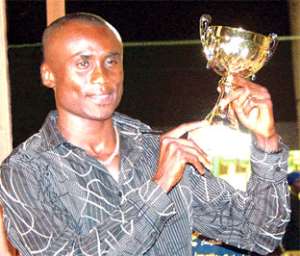 Three names stand out uniquely now in Ghana athletics, Margaret Simpson,Ignatius Gaisah and Aziz Zakari.And as the nation tries to recapture a portion of the limelight at the international level,they have tried in their own way to brighten the spot.
This afternoon,Gaisah will try to salvage what is left of the nation's medal hope at the on-going World Athletics Championships when he goes into action in the men's long jump against 25 other contestants at the Helsinki Olympic Stadium.
With a qualifying mark of 8.16 metres,Gaisah,currently ranked third behind the defending champion,Dwight Philips of the USA and Spain's Joan Lino Martinez,has a huge responsibility of adding up to Ghana's medal haul after the track stars failed to shine.
Ghana's only medal stands in the name of Margaret Simpson who won bronze from the hepthathlon event last Sunday.
Gaisah, who announced his presence onto the world scene with his first appearance at the 2003 Championship in Paris during which he finished fourth, has risen to the position of great potential and is expected to attract a lot of attention, more so when the defending champion, even considers him a threat.
But with such qualifying marks as 8.47m from Philips, 8.37m from Martinez and South Africa's Godfrey Mokeona Khosto respectively as well as former champion,Cuba's Ivana Pedroso's 8.22m, Gaisah will need to draw all the inspiration and personal strength to overcome the challenge and add his name to the winners list.
His personal best at the moment stands at 8.32m recorded at last year's Olympic Games in Athens,the same event in which Philips leaped 8.60m and Martinez, the silver medalist recorded 8.37m.
With a lot of experience gained from the last competition and the personal confidence and training technique, Gaisah is hoping to improve upon his personal best jump with that one important leap he needs to earn a medal.
Should he fail to finish among the first three, any hope of winning an additional medal will be effectively over as the men's 4 x 100m relay team has pulled out of the competition.
Since winning the 2003 All Africa Games in an exciting final, Ghana's relay team has barely shone but it had been the general expectation that they will be in action at Helsinki.
Rather,a string of poor runs by the sprinters,culminating in the disappointing finish of Zakari in the men's 100m final seem to have affected their pysche to push them to compete in the relay event.
Out of the 16 teams competing for honours,Nigeria are the only side representing Africa but they face an uphill challenge from Team USA,Great Britain who won gold at the Olympics last year and the other heavyweight sprint nations.