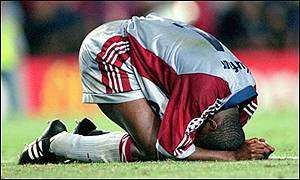 Sammy Kufuor has swallowed his pride and apologised to coach Ratomir Dujkovic and the Ghanaian public for negative comments he made about the national team. Kuffuor, who now plays for Italian side AS Roma, made the apology on Ghana's TV3 on Thursday, despite an earlier vow never to do so. The defender had accused Dujkovic and the Ghana FA of lying about his health after he was excluded from a World Cup qualifier against DR Congo in Kinshasa. Dujkovic's response was to exclude Kuffuor from the national team until the former Bayern Munich player had apologised for his outburst. In his television apology, Kuffuor, the 2001 BBC African Footballer of the Year, said he wants to put the dispute behind him and concentrate on Ghana's quest to qualify for next year's World Cup finals in Germany. He said: "If the coach wants an apology and Ghanaians want an apology, why not? "I am sorry for whatever happened. I have spoken to the coach and told him that if he wants me to play for Ghana again, I am always available. "I am a Ghanaian and will always put this country first. "In our first World Cup qualifier against Burkina Faso, I broke my shoulder and hand but still played through the pain because I love this country," Kuffuor said.
Dujkovic, who said that the player has already apologised to him privately, said he will have to ponder over Kuffuor's words before deciding to invite him for further international duty.
"I spoke to Kuffuor extensively last week but I reminded him that I needed a public apology.
"He told me that if I called him up today, he would be available. That pleased me a great deal," said the Serbian coach.