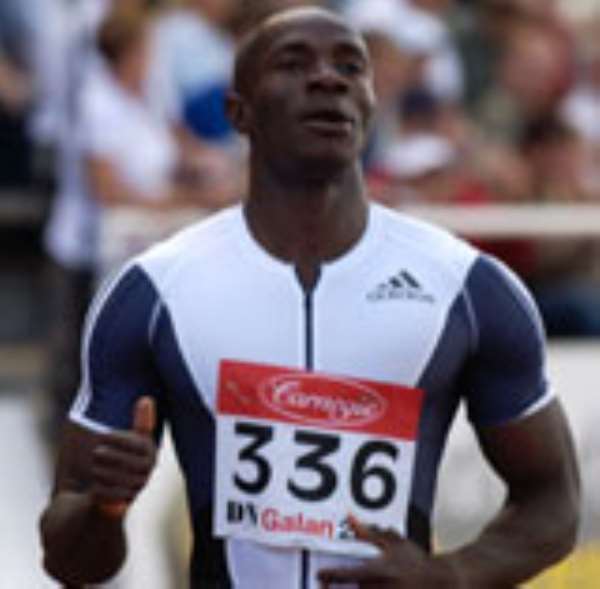 Athens (Greece) 23 August 2004 - Ghana's Aziz Zakari suffered heartache for the third major 100m final when he failed to finish the finals of the 2004 Olympics in Athens on Sunday. Zakari who was technically the only African among the eight finalists pulled up after only ten meters apparently with an injury. It was a repeat of the final of the 2000 Olympic Games when again as the only African, Zakari pulled up injured. And then a year later at the World Athletic Championships, The pull out in Athens will lead to renewed questions about Zakari's ability to perform when it really matters Justin Gatlin was the eventual surprise winner of the men's 100 meter sprint final as he took the gold medal ahead of Portugal's Francis Obikwelu and favorite Maurice Green. Gatlin, the 2003 world indoor champion over 60m, had a powerful start and just stayed ahead of his rivals en route to a personal best and year's best time of 9.85 seconds. Francis Obikwelu of Portugal got the silver and the European record in 9.86. Defending champion Maurice Greene of the United States won bronze in 9.87. A third American, Shawn Crawford, was fourth in 9.89. Five runners broke the 10-second mark, and another -- world champion Kim Collins -- finished in exactly 10 seconds. It was the closest finish in an Olympic 100 final since the 1980 Moscow Games, when Allan Wells of Britain held off Silvio Leonard of Cuba as the two were timed in 10.25. Gatlin raced to his first major title by upstaging the sprinters who were expected to battle for the gold. Asafa Powell of Jamaica, who had twice beaten Greene this season, finished fifth in 9.94. Stellar competition "I've been dreaming about this since I started racing," said Gatlin. "I've lived for this moment. it was a very great race, the competition was stellar." The final took place in a wonderful atmosphere as the capacity crowd clapped and sang during a 20-minute build-up that must have left the athletes buzzing. Gatlin was last out of the blocks but picked up so well that he had opened up a one-meter lead at the halfway stage. As the line approached, however, Obikwelu and Greene began reeling him in. But the finish came a meter too late for Obikwelu's huge dip and it was Gatlin who was celebrating as he finished one hundredth of a second outside Donovan Bailey's 1996 Olympic record of 9.84. "I'm feeling great, I can't even be emotional, I can't believe it's happened," Gatlin said. Obikwelu, who milked the crowd as he danced and clapped before the race, was also happy. "I didn't know how fast it was going to be but it was close, it was very fast. Today I did it, I thank God and I'm so happy that I expressed myself," he said. Greene was desperately close to becoming the first man to finish first in successive Olympic 100 metres finals -- Carl Lewis retained his title in 1988 only after the disqualification of Ben Johnson but had no complaints. "I hope the fans enjoyed the show we put on today," he said. "It was a great race, I knew it was going to be very tough. I set the bar very high for myself. I knew it was going to be very fast." Two Ghanaians in Finals ATHENS, 22 August - Aziz ZAKARI progressed to the finals of the men's 100m which is scheduled for 23:10 local time (22:10 CET). Myles Mills failed to make the last 8. Asafa POWELL (JAM) was the fastest qualifier after winning his semifinal in 9.95 seconds ahead of Francis OBIKWELU (POR) and current Olympic champion, Maurice GREENE (USA). GREENE led the field in the early stages but POWELL was able to run him down. After a poor start OBIKWELU ran a strong final 50 metres and only just caught GREENE at the finish line. Both athletes were awarded the same time of 9.97. Finishing in fourth place, and qualifying for the final, was reigning world champion Kim COLLINS (SKN) with a season's best 10.02. The fastest man in the world this year, Shawn CRAWFORD (USA) won the other semifinal in a much slower 10.07. However, this was run into a 1.2 metre per second headwind and the final 15 metres he cheekily looked across at his teammate Justin GATLIN.
GATLIN finished second in 10.09 while Ghana's Aziz ZAKARI (10.11) placed third and Sydney Olympic bronze medallist, Obadele THOMPSON (BAH) finished fourth in 10.22 to progress to the final.
Semi #1
1 3246 CRAWFORD Shawn USA 10.07 Q
2 3263 GATLIN Justin USA 10.09 Q
3 1965 ZAKARI Aziz GHA 10.11 Q <--
4 1136 THOMPSON Obadele BAR 10.22 Q
5 1815 LEWIS-FRANCIS Mark 10.28
6 2229 FRATER Michael JAM 10.29
7 1763 POGNON Ronald FRA 10.32
8 2596 EMEDOLU Uchenna NGR 10.35
1 2241 POWELL Asafa JAM 9.95 Q
2 2739 OBIKWELU Francis POR9.97 Q
3 3268 GREENE Maurice USA 9.97 Q
4 3003 COLLINS Kim SKN 10.02 Q SB
5 1806 GARDENER Jason GBR 10.12 SB
6 1959 MYLES-MILLS Leonard GHA 10.22 <--
7 2251 THOMAS Dwight JAM 10.28
8 1235 LIMA Vicente BRA 10.28 Two Ghanaians In 100m Semis Two Ghanaians, Aziz Zakari & Leonard Myles Mills made it to today's 100-metre semi-final. This, after a quarter-final series that produced superb sub-10 clockings from Americans Shaun Crawford, Justin Gatlin, and Maurice Greene; Jamaican Asafa Powell, and Portugal's Francis Obikwelu (ex-Nigerian). World champion Kim Collins of St Kitts and Nevis ran a personal season's best 10.05 seconds behind Aziz Zakari (10.02), with Jamaica's Michael Frater (10.11) third in that heat. Also advancing from Ghana was Leonard Myles Mills (10.18) who was third in his heat. The three American entrants — Shawn Crawford (9.89 seconds), Greene (9.93) and Justin Gatlin (9.96) — all won their heats. Francis Obikwelu and Asafa Powell also ran sub-10 times to set up a semifinal field in which the slowest runner, Leonard Myles-Mills of Ghana, advanced with a time of 10.18 seconds. Eric Nkansah was eliminated in round one. He placed sixth in a heat that was won by Namibian national, Frankie Fredericks.