Ghana, Germany and Portugal have one spot to fight for - a confident US coach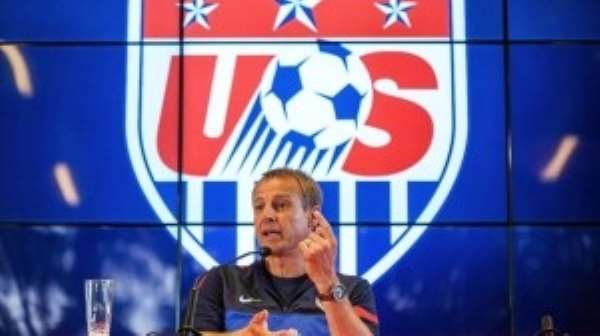 United States coach Juergen Klinsmann believes his side will turf out Germany, Portugal or Ghana in the first round of the World Cup in Brazil in June.
The German trainer says the Black Stars must fight with Germany and Portugal to clinch the group's other automatic ticket to the second round of the competition.
The ex-striker thinks they will secure the top spot in the group leaving the three other countries fighting for the other ticket as they have hugely matured from their previous appearances in the competition.
"Our team has matured a lot over the last couple of years and we are going to give them a big, big fight," he said at a FIFA pre-World Cup workshop in Brazil on Thursday.
"We are expecting to go to the knockout stage, that means Germany, Portugal and Ghana will have to fight it out for the other spot (from Group G).
"We've come through a tough qualifying process where we proved our capability. We have a lot of good players," said the former Germany coach who led his home country to third spot at the 2006 finals.
America lost matches to Ghana in the previous two World Cups and the Black Stars are seeking to complete a hat-trick over the Americans.
The Americans meet Ghana in Natal, Portugal in Manaus and Germany in Recife, arguably the toughest schedule of any of the 32 finalists.