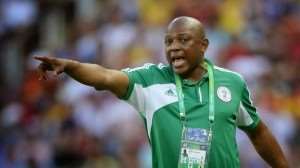 Keshi
Africa Top Sports reported last Wednesday the failure of Coach Stephen Keshi and home-based Eagles to seal Chan 2014 final berth as well as the credit the former Nigeria captain gave to victorious shorthanded (10-man) Black Stars of Ghana after penalty shootouts.
But consolation came to Eagles as they managed to win bronze Saturday after dispatching Zimbabwe 1-0 at Cape Town Saturday afternoon.
Coach Keshi who was running after a historic double Afcon-Chan could do nothing than just take pride in his Chan bronze medal. He therefore expressed having no ill feeling for his failure to achieve his never-attained dream.
"I have no bitter feelings at all," he said.
"I'm so happy with the boys over these three weeks. They've grown to understand what I want and to express the game the way I want them to.
"Of course it is disappointing to lose a semi-final. Everybody would feel the same way.
"But objective was to see one or two players that could make the World Cup and I've seen some of them even though I will not name them.'