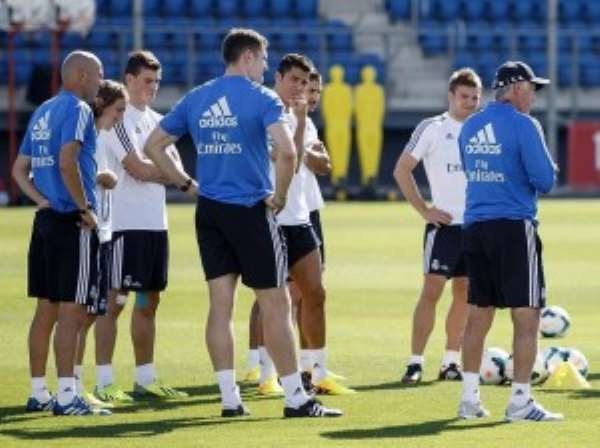 gareth-bale-first-training-2
http://en.africatopsports.com/wp-content/uploads/2013/10/gareth-bale-first-training-2.jpg On October 26, Real will host Juventus in the Champions League before facing Barcelona 6 days later in La Liga.
Following the report published by Marca newspaper which claimed that Bale had suffered a slipped disc in his back, Real Madrid insisted that it was completely false and as to prove it, Gareth Bale http://en.africatopsports.com/#sthash.iTgLvrfe.dpuf returned to training yesterday with his club and can even take part in the match real Madrid-Malaga on Saturday.
By joining Real Madrid during the last transfer window, the 24 years-old Welsh international became the World's most expensive player.
According to the club official website, all the players namely Bale, Iker Casillas, Alvaro Arbeloa, Pepe, Daniel Carvajal, Sami Khedira, Isco, Angel di María, Jesé, Alvaro Morata and Karim Benzema were present in training under the leadership of their coach Carlo Ancelotti. 'Ancelotti had the majority of the internationals at his disposal as well as Bale to prepare for the Málaga game,' can be read on Real website.