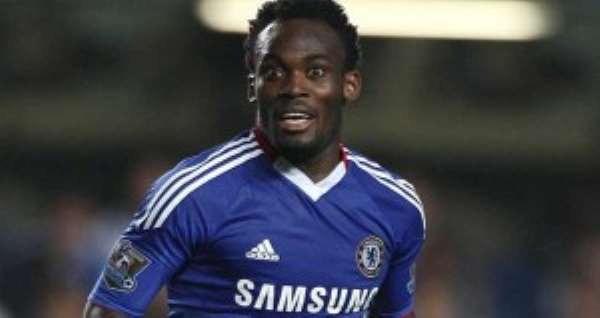 Michael Essien
Chelsea manager Jose Mourinho has told Juan Mata to follow the example of Ghanaian midfielder Michael Essien in order to convince him of his worth.
Ghana midfielder Essien, who spent last season on loan at Real Madrid under Mourinho, was not named in Chelsea's Champions League squad and will on Tuesday night make his first appearance of the season at Swindon in the Capital One Cup, when World Cup winner Mata will also feature.
Mourinho has not been swayed by Mata's reputation as Chelsea player of the year in each of the last two seasons and demands more.
"He's not the same as Essien," Mourinho said.
"Essien didn't play one single minute and I left him out of the Champions League list."
Mata's projected appearance at the County Ground will be his fourth of the season for Chelsea, having failed to convince Mourinho of his talents in starts against Aston Villa, Everton and a substitute appearance versus Basle.
While Mata must deliver as an individual, Mourinho is also targeting a collective improvement after ending a four-match winless run, and bouncing back from successive defeats, with a 2-0 win over Fulham.
Others on the periphery will also play at Swindon, including David Luiz, Essien, Cesar Azpilicueta and Ryan Bertrand, while the likes of Oscar, Mourinho's favoured playmaker, and Ashley Cole rest ahead of Saturday's London derby with Tottenham.
He added: "We have to work to improve. Now the head is cleaner, now we have to work on other things.
"The boys who I give two days' off, they have to enjoy their little holiday.
"The beginning of the season was quite hard for us.
"Now we have a period of four consecutive matches away. We play Swindon, Tottenham, Norwich and Steaua (Bucharest) all of them away from home.
"We have to prepare ourselves the best we can. And everyone's going to play, because we have four consecutive matches."
Oscar opened the scoring against Fulham and John Obi Mikel netted his third goal in 282 games for Chelsea – his first in the Premier League and his first since scoring twice in successive rounds of the FA Cup against lower league opposition in January 2007.