Gyan, Nyantakyi Support Guinness Football Challenge Contestants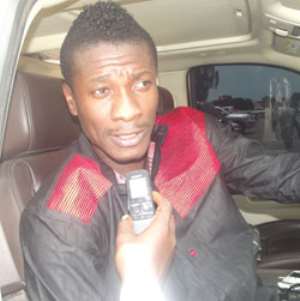 As the semi-final stage of the nation's favourite TV game show, the Guinness Football Challenge draws near, celebrity fans including the Black Stars captain Asamoah Gyan and president of the Ghana Football Association (GFA) Kwesi Nyantakyi, are sending their messages of support to the Ghanaian contestants as the latter 'play for their country' in this year's Pan-African edition.
This season's football loving pairs have gone head-to-head with their fellow countrymen to show they are the best from Ghana, and now will be flying the flag of their country as they battle it out against competitors from Cameroun, Kenya, Tanzania and Uganda in the Pan African competition.
Asamoah Gyan, Black Stars captain, gave the teams his support saying, 'It's great to see Ghanaians showing their love for the national game.  The nation, and of course, Guinness, all got behind us and showed their support earlier in the year at AFCON, and now it's our turn to cheer the Guinness Football Challenge contestants on - we wish them the best of luck in the competition, do it for Ghana!'
Mr. Kwesi Nyantakyi sent the following message: 'The Guinness Football Challenge really demonstrates the Ghanaian spirit of doing what it takes to realise your dreams.  The teams have shown that they are the best talent in Ghana when it comes to football game shows and I am confident that they are certainly going to do our country proud. I encourage them to go on and show the rest of Africa how much Ghana loves football!'
And of course, Guinness Football Challenge presenters, Nathaniel Attoh and Naa Adjeley Doku, will be backing them all the way.
Nathaniel Attoh says: 'Go guys and let the pride, red, gold and green flag bring out the greatness in you in these final stages. Ghana is a great football nation and I know you will demonstrate that. You can make it!'
Co-host Naa also sent the teams her best wishes: 'Season 3 of the Guinness Football Challenge is thrilling and exciting. Congratulations to all the guys who won the preliminary rounds and all the best in the Pan African round. It won't be easy but I know they can make it big. Ghana all the way.'
You can show them that you are backing them all the way by sending your message of support to the teams at www.facebook.com/Guinness.Gh http://www.facebook.com/Guinness.Gh or on Guinness's mobile social community for football lovers, Guinness VIP. Sign up for free at m.guinnessvip.com.
The Guinness Football Challenge will be shown on Viasat 1 at 9pm every Thursday; Metro TV and TV Africa at 6pm on Saturdays and Multi TV at 7 pm on Sundays.