Brazil 2014: Keshi Threatens to Drop Mba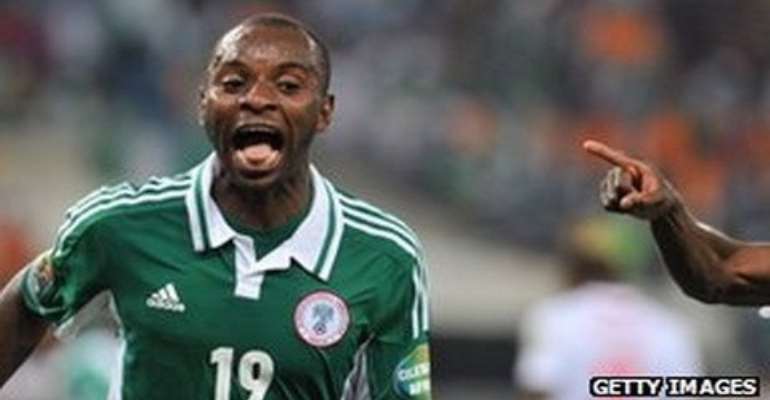 Coach Stephen Keshi has threatened to stop selecting Africa Cup of Nations hero Sunday Mba for the national team duty unless the striker starts playing again in the local league.
Enugu Rangers and Warri Wolves are bitterly embroiled in claims over the rightful owner of the contract of the striker who was the match winner in the Africa Cup Nations final against Burkina Faso.
The Mba saga was one of the touch points at Tuesday's parley between Keshi and the media when the Super Eagles camp opened ahead of the Brazil 2014 qualifying match against Kenya in Calabar on March 23.
Keshi, who on February 10 guided Nigeria to a third Africa Cup of Nations triumph in South Africa, said that he was worried that Mba was not playing in the local league because of the lack of compromise between Wolves and Rangers.
He warned he might consider dropping Mba from the team if there was no compromise, as his lack of playing time was of no benefit to the player or country.
"I am very worried because he (Mba) is not playing in the league right now due to his contract which is disputed by two clubs. At this point we have to consider Mba's career because it he is important for the country. While the authority has stepped into the matter, I might decide to drop him if he is not playing given that this situation is not good for us," Keshi warned.
The Nigerian premier league matches only resumed last week, well behind schedule, following the crisis that was escalated by the sack of the board of the league and the institution of an interim body late last year.
The Nigeria Football Federation (NFF) is expected to make a pronouncement on the Mba issue this week after studying the recommendation of a special panel it instituted to broach a settlement between Wolves and Rangers.
After studying the documents submitted by both clubs, the panel is understood to have resolved last week that Mba remains a player on the books of Wolves until the end of the 2013 season.
The panel, however, strongly felt that the wish of Mba to play for Rangers and not Wolves be respected and even said it was willing to grant the player a provisional clearance to play for the Flying Antelopes in the league and the continent if the both clubs failed to reach an amicable settlement.