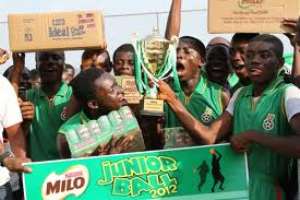 Accra, March 18, GNA - Calvary Preparatory and Junior High school put up a splendid performance to win the 2012 Greater Accra Milo Junior Ball on Saturday at the El Wak Stadium, Accra.
This was after nail-biting final game against highly-fancied Garrison Basic School.
Calvary Preparatory and JHS, who lost the opening game by 22-20 to Ridge Church School, came back strongly to beat Cosmos International School 23-13 in the second game.
It was a competition that saw lovers of Basketball defied the rains to catch a glimpse of young and talented players in Accra.
Calvary Preparatory and JHS clinched a quarter-final victory over former champions Air Force Basic School to re-ignite their confidence and aspirations for the ultimate trophy with 20-18 scores, whilst beating Ghana Lebanon and Islamic School (GLISS) at the semi-final stage 24-19 in a keen contest.
Playing a more defensive approach in the final game, Calvary Preparatory and JHS seem to have their plans worked for them as they handed them Garrison Basic School 15-14 defeat to lift the cup.
Calvary Preparatory and JHS, Garrison Basic School and GLISS have all qualified for the Grand Finals fixed for April 13, at the El Wak Stadium, Accra.
The 2012 Milo Junior Ball is in under the sponsorship of Nestle Ghana Limited, and organised by Rite Multimedia-leaders in basketball development and promotion in Ghana.
GNA