One Day A Ref 'll Be Shot - Sarpong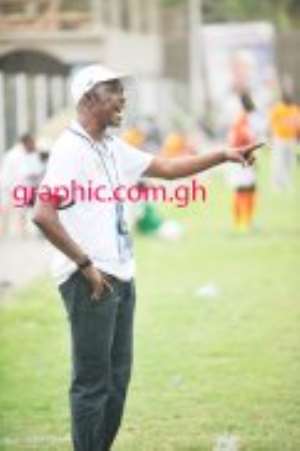 Coach J. E. Sarpong
Coach J. E Sarpong of Liberty Professionals has warned that "one day a referee will be shot" in the country for bad officiating.
The Liberty coach was pouring his emotions in a post-match interview with Metro TV at Bekwai Sunday.
Apparently incensed at Referee Awal Mohammed's handling of their 2-2 drawn Glo Premier League match against New Edubiase at Bekwai, Coach Sarpong repeatedly warned that if care was not taken erring referees faced the danger of being assailed and shot.
He minced no words when he told the Metro TV Sports interviewer, Michael Katahena, that it was suicidal the manner the referee took certain decisions against his team to rob them of victory, as it were.
He cited the instances of the referee awarding a penalty to their opponents, which they utilised; and red-carding a Liberty player, which affected their numerical strength.
Liberty took a commanding 2-0 lead in the second half through Latif Salifu and Ibrahim Camara, but subsequently lost the advantage when potent striker Emmanuel Baffour redeemed a goal foe Edubiase from the penalty spot before a headed own goal by Tuffour Frimpong eventually did Liberty in.
Coach Sarpong's efusions at Bekwai coincided with a physical assault on another referee, Patrick Kyeremanteng, at Cape Coast where Dwarfs lost at home for only the second time in the season.
Former champions, Aduana Stars, achieved a narrow 1-0 victory in the road, but the result brought misery to the match officials who were at the mercy of their assailants after the final whistle.